(Video) Nigeria's Most Celebrated Porn Actress Says, "I Was Foolish"
Savage Trap Queen Regrets Curiosity That Drove Her Into Porn Industry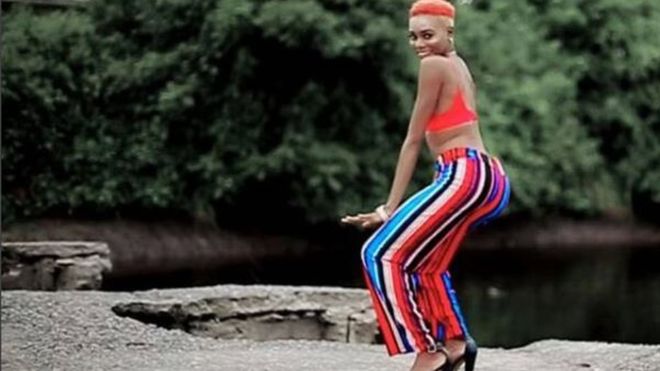 By Emmanuel Aziken
Nigeria's celebrated porn star, Savage Trap Queen has quit the porn industry saying she was foolish in despising godly upbringing into a career she claimed damaged her.
Appearing on the popular TVC programme, Your View she said she was driven into the industry by her craze for fame and money. Though she got the soiled fame from the pornographic stunts, but it was a kind of fame that brought tears to her father.
She made a public apology to her parents, family and an unnamed close friend who she said did not cut away from her unlike many others in her time as arguably Nigeria's most celebrated porn artiste.
"I was foolish, yes foolish," she told the Your View panel on her decision to enter the industry, a drive that was prompted by curosity and the pursuit of the fame she saw in reality stars like Kim Kardashian.
She said that knowing what she knows now, she certainly wouldn't have entered the industry.
She said that up till now she is still paying for her notoriety as a porn artiste as according to her she has been denied roles in normal films because of her recent past. A pageant crown was also taken away from her.
"After I had the BBC interview I recall that my dad, shed a tear, he actually cried and I felt it that this man that is really very hard crying and that meant that it must have really hurt him.
"My extended family did not like it, a lot of them cut me off completely. But my immediate family, the likes of my mum, God bless that woman, she gave me time to understand myself.
"My dad and I were not really on good terms but after this whole scandal…I actually told my parents myself that this was what I was doing.
"And I am using this medium to apologise to my mum and my dad and my two big sisters and my best friend. Who resisted pressures to cut me off. I had friends from school who cut me off. They would whisper see her coming."
She said that the life of the Kim Kardashians was one of the alluring things that pulled her towards the industry but which she now regrets.
The former porn star who in previous interviews had mentioned getting between N80,000 and N100,000 per pornographic film said the industry is not rewarding but even if it becomes she vowed that knowing what she now knows she would not do it again.
"I wouldn't go back into being a porn star. I will look out for something better because I believe overseas there are wider opportunities for me to achieve my dreams without going into immorality to get there."
"I wouldn't want any of my children to go into the industry. I was foolish and I decided to come to the show so that other girls would not be foolish," Savage Trap Queen, whose real name is Daphnia said.