Buhari Has Liberated Urhobo From Backwardness – Omo-Agege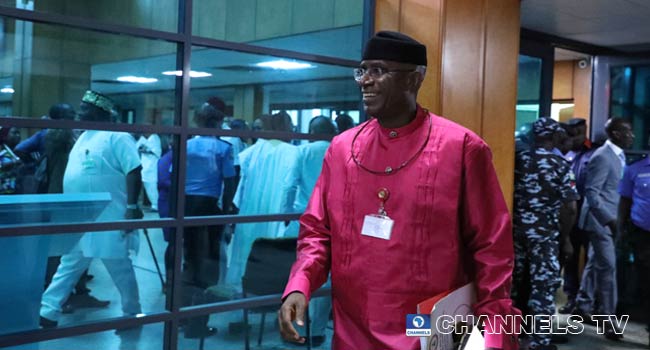 By Chuks Ekpeneru
Deputy President of the Senate, Senator Ovie Omo-Agege has urged the Urhobo to rally round President Muhammadu Buhari and the ruling All Progressive Congress, APC, given the windfalls that have come to them through the party.
In an address to the 2019 annual convention of the Urhobo Progress Union America (UPUA), Omo-Agege deposed that Buhari has gifted the Urhobo nation with several appointments adding that more appointments were set to come the way of the people in the near future.
Omo-Agege was represented at the gathering which had the theme, "Accelerating the Socio-Economic Development of Urhoboland through investments in Education," in Philadelphia, U.S.A. by the member representing Ughelli North/South and Udu Federal Constituency in the House of Representatives, Hon. (Rev.) Francis Ejiroghene Waive.
While commending President Buhari's administration and the ruling All Progressives Congress (APC) for showing fairness to the Urhobo people, Omo-Agege said:
"Whilst I am humbled by my June 11, 2019 historic election to this high office of State, I am very proud and fulfilled that we were able to forge great alliances with which we successfully engineered this great victory at the apex of our complex national politics to put the Urhobo nation in its place of pre-eminence, pride and duty in national affairs.
"Mr. President has also appointed Olorogun Festus Keyamo, SAN, the Minister of State, Niger Delta Ministry and Olorogun Bernard Okumagba, the new Managing Director of the Niger-Delta Development Corporation (NDDC) while many more Urhobo sons and daughters are expected to be appointed in due course," he said.
"It is my hope that with more strategic thinking, focus and actions, the Urhobo nation will never make the costly mistake of shying away from its rightful place in our nation again but having attained this new level in national politics, how are we going to consolidate on what we have achieved for the good of our people?
He urged the people to come together to consolidate on the gains from the APC saying that the alliance with national ruling parties such as the National Council of Nigerian Citizens (NCNC), the National Party of Nigeria (NPN), the Social Democratic Party (SDP), People's Democratic Party (PDP), and now, the APC, has significantly advanced their collective interests and brought political influence as well as national projects to Urhobo land.
"Guided by the urgent need to change the course of the ship of the Urhobo nation and raise the political profile of Urhobo, we knew we had to build new relationships so, we went to work, caucusing with the APC in the Senate and building new alliances and eventually joining the party from the Labour Party.
"Since then, we made tremendous progress and today your brother, my very self, is now the fifth-highest political office holder in Nigeria; as Deputy President of the Senate of the Federal Republic of Nigeria, the power of Urhobo voice in national politics will be louder, clearer and stronger and so too will be Urhobo influence."