Delta APC: Omo-Agege Continues Domination Of Emerhor In Thier Backyard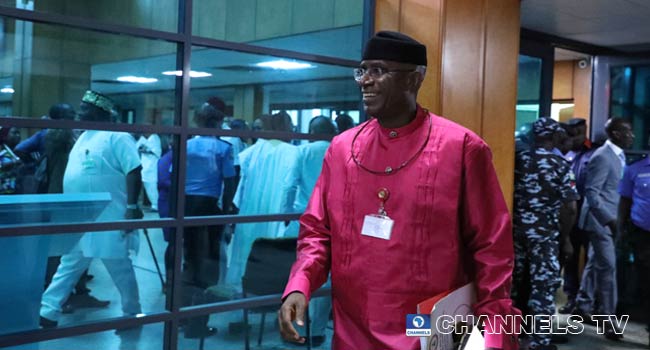 By Patrick Adamagu
Senator Ovie Omo-Agege's domination of Olorogun O`tega Emerhor in the Delta State chapter of the All Progressives Congress, APC continued at the weekend after the Supreme Court declared the immediate past personal secretary of the deputy Senate President, Moses Anaughe, as the winner of the Ughelli North 11 State Constituency.
Ughelli North II is Emerhor's constituency while Omo-Agege is from Ughelli North I.
The country's apex court in its judgment affirmed that Anaughe, was the winner of the October 5, 2018 APC primary and should have been declared as the winner of the poll won by the APC.
Jaro Egbo, an ally of Emerhor had earlier been declared winner of the 2019 House of Assembly election for the district as announced by the Independent National Electoral Commission, INEC.
Egbo, ironically had served as personal secretary to Omo-Agege and was succeeded by Anaughe. Egbo after falling out with the senator became an associate of Emerhor at the peak of the crisis between both top Ughelli politicians.
When Emerhor called the shots in the Delta State chapter of the APC, Egbo eventually emerged as the Special Adviser (Political) to the Executive Director, Projects on the recently dissolved NDDC board.
However, the Federal High Court II, Benin-City, nullified Egbo's declaration as winner of the primary and declared Anaughe as the authentic candidate of the party for the election.
The presiding judge, Justice Mary Odili delivering the unanimous judgement by the five Supreme Justices, dismissed the appeal by the appellant, Chief Egbo and affirmed the ruling by the decision of the lower courts.
Speaking on the judgement, counsel to Anaughe, Bello Abu said: "Following the appeal by the appellant, Chief Jaro Egbo appealing the ruling by the Court of Appeal, the Supreme Court in its judgemnet today outrightly dismissed the appeal and affirmed the decision of the appeal court that Moses Anaughe is the rightful candidate in the APC primary held on October 5, 2018 for Ughelli North II of Delta State.
"All the issues raised by the appellant including the point that the suit was filed outside 14days and is status barred, were dismissed and that rather, the matter was indeed filed within time.
"As regards the person who won the primary, the court held that Moses won the primary as shown by INEC report which the Benin courts used in declaring him as the authentic winner of the primary."
Speaking on the ruling, Egbo in a short statement, said: "Today we lost the appeal at the Supreme Court. Today is not our turn, but a partial eclipse. The sun will shine again."
Emerhor's star in the APC had earlier been blighted by the appointments of associates of Omo-Agege into positions in the Niger Delta Development Commission, NDDC to represent Delta State.
Before now, those appointments had reportedly been channeled through Emerhor when Chief John Odigie-Oyegun was national chairman of the ruling party.