2019 Tribunal Verdicts In Delta: PDP Supremacy And Enduring Songs Of Victory.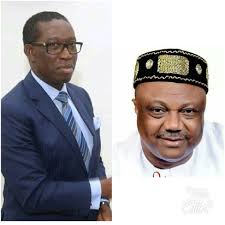 By Dr. Fred Latimore Oghenesivbe Esq.
The battle for the soul of Delta State between PDP and APC ended in favour of PDP during the 2019 general elections. It was indeed a superb outing for the party and her governorship candidate, Senator Dr Ifeanyi Arthur Okowa.
He was genuinely declared winner after results were sorted out and declared by INEC, the electoral umpire for the country. PDP won 23 out of the 25 local government areas losing Ethiope East and Ughelli North respectively.
Ethiope East is known to be the stronghold of the APC guber candidate, Chief Great Ogboru while Ughelli North left the grip of PDP due largely to the combined political influence of Ogboru and Senator Ovie Omo Agege. Agege hails from Orogun Town in Ughelli North.
PDP and APC are currently ensued in a fierce legal battle at the tribunal. The petitioner, APC, is pleading over voting while PDP is urging the tribunal to ignore the prayers of the petitioner on the grounds that the governorship election results as declared by INEC cannot be faulted by the petitioner.
In 2015, same scenario played out when the APC and its candidate, Olorogun Otega Emerhor on the one hand and Labour Party (LP), her governorship candidate, Chief Great Ogboru on the other hand; approached the 2015 governorship tribunal to quash the victory of PDP and its candidate, Senator Dr Ifeanyi Arthur Okowa, on the grounds that PDP won based on over voting and other irregularities.
At the end of the 2015 election legal tussle, PDP and its governorship candidate, Gov Okowa, were victorious, and Chief Great Ogboru and his political family immediately defected to APC with the hope that victory will not elude him in 2019 if he eventually emerged as the party's candidate.
He got the slot and behold the 2019 governorship elections in Delta State, turned out to be Ogboru's greatest political nightmare since 1999. He lost big time to PDP and Gov Okowa. It was a complete show of shame which the APC and Ogboru are struggling to cope with and the beats goes on at the tribunal.
Political observers are quick to point out that Ogboru monumental failure in 2019 was as a result of his rather awkward political leadership style especially his consistent failure to keep the political temple immediately after general elections, only to reappear few months before party primaries. Things are not done that way, our people are now well informed politically.
Others are not comfortable with Ogboru's low academic background and at the same time not happy with the crash of his fish business empire while majority of Deltans also frowned at the lorry load of bank debts for which Ogboru and his Fiogreat Limited sank billions of Naira of depositors money. The highly distasteful huge debt profile as put out by the Assets Management Corporation of Nigeria (AMCON), described Ogboru as a chronic debtor and a bad manager of financial resources.
These facts are in public domain and certainly played against APC and Ogboru during 2019 governorship election as can be seen from their abysmal performance at the polls, losing 23 LGAs to PDP and Gov Okowa.
In the light of the above, it is clear that the tribunal verdict will not be a surprise to Deltans when it eventually come to light. Even babies in their mothers womb during the 2019 general elections can testify that PDP and Gov Okowa worked very hard in terms of massive campaign, grassroots mobilization coupled with town hall meetings and execution of numerous people oriented projects, job and wealth creation that brought about substantial prosperity in the state.
Very soon, APC and Ogboru will realise that going to the tribunal is not just enough but doing the right things before and during elections. Deltans cannot forget in a hurry how Delta APC was engrossed in pitiable infighting and baseless witch hunting among its leaders before and during the 2019 governorship elections in the state.
Delta APC had two major factions namely; Light of APC Delta and Mainstream APC Delta plus other pockets of factions which produced multiple candidates during 2019 elections. Its obvious that election cannot be won on the basis of senseless internal fractionalization and petty squabbles among leaders.
PDP on the other hand was well organised, strategically coordinated and united before, during and after general elections. Her campaign strategies and massive mobilization of the people accounted for the well deserved landslide victory which saw the reelection of the ROAD MASTER, Gov Okowa.
The much expected 2019 governorship tribunal verdict shall justify this piece, Deltans and the entire PDP family in the State, shall in one loud voice sing the victory song once again.
APC and Ogboru should get ready for 2023 governorship election. Gov Okowa shall be in charge of Delta State, till May 29, 2023.  In God we trust!
Dr Fred Latimore Oghenesivbe Esq. Served as an aide to Gov Okowa between 2015 and 2019