(Video) Port Harcourt Serial Killer Gives Details Of His Operations -Viewers Discretion Advised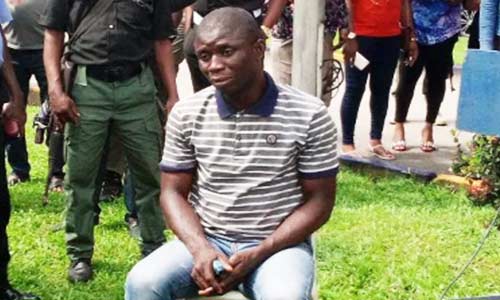 By Ayodele Oluwafemi
The suspected serial killer of young ladies in Port-Harcourt hotels, Gracious David-West has confessed and given wrenching details of he killed his victims.
According to him he usually put knife in the private part of his female victims after sleeping with them.
David-West, 39, who hails from Buguma, Asari-Toru Local government Area of Rivers State, disclosed to newsmen during his parade at the Police Command, Moscow Road that he single-handedly killed a total of 7 ladies, five in Rivers State, one each in Lagos and Owerri.
He, however, pleaded for mercy, saying that he was manipulated by evil spirit and not sponsored by any individual.
According to him, "I used to carry dagger like Hausa people and put it in their private part. After sleeping with them, I will now put the knife in their private part and use it to threaten them that if they shout I will use the knife to cut them.
"After that, I will hold her on her neck and take the pillow case. I will tear the pillow case and use it to tie the girl so that she will not shout or drag with me.
"After they die my eye will now clear. I don't know what pushes me to kill women. I think evil spirit is disturbing me," he said.
Addressing newsmen during the parade, Rivers State Commissioner of Police, Muhammad Danduara disclosed that the arrest of the suspect was sequel to the directive that hotel owners should install CCTV cameras in their premises.
CP Danduara added that Special Anti-Robbery Squad arrested the suspect during the stop and search operations along Ogoni axis of the East West road.