Dickson, Embattled Speaker Differ On Impeachment As Gov Soldiers On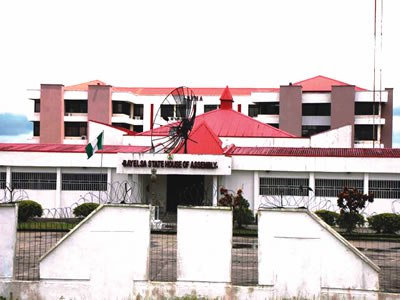 By Emmanuel Aziken
Different strokes are trailing Monday afternoon's development in the Bayelsa State House of Assembly with the dominant Peoples Democratic Party, PDP being split on the issue.
While the camp loyal to Governor Serikae Dickson affirmed that Tonye Isenah had been impeached and removed as Speaker of the House, Isenah was quick to rebuff the suggestion.
He affirmed that the House had been properly adjourned and that nothing can happen until the house is properly reconvened.
His assertions nonetheless, the governor was quick to congratulate the new Speaker, Bubou Obolo and pledge his cooperation towards him.
Earlier in the day the House of Assembly was forced to adjourn after gunmen invaded the premises of the house and sent lawmakers and stakeholders fleeing. In the process the mace of the House was removed.
However, some members reconvened during which time they purportedly impeached and removed Isenah as Speaker.
The developments on Monday followed moves to get Isenah to resign to enable the members elect a member from Ijaw South Local Government Area in a move to strengthen the Peoples Democratic Party, PDP in Ijaw South, which is the base of the All Progressives Congress, APC governorship candidate, David Lyon.
However, despite earlier belief that Isenah would resign, violence spewed after the gun men turned in and forced the legislators to scamper.
The governor, however, in a statement by his Chief Press Secretary, Mr. Fidelis Soriwei, described the new Speaker as a promising, young and vibrant political leader with the capacity to carry out the sensitive responsibility of presiding over the affair of the Legislative arm of government.
The Governor called on the members of the Assembly to give the requisite support to the new speaker to enable him to succeed in his new position as the Head of the Legislature in the state.
Governor Dickson advised the Speaker and the members of the Assembly to ensure that the Assembly legacy of stability was sustained.
Isenah Dismisses Report Of His Removal
Isenah, however, insisted that he remained the speaker of the assembly on Monday in Yenagoa.
A lawmaker said that there was tension around the assembly complex in the build-up to the sitting where the speaker was expected to resign on Monday.
The assemblyman also said that the leadership of PDP had advised Isenah to resign, pleading anonymity.
But Isenah insisted that his resignation was premature and could only happen after the election.
"I did not resign, neither was I impeached, I presided over the house and I did not preside as an impeached speaker, so as we speak the house is on recess and anything done by anyone is a nullity.
"The speculation that there was an understanding that I will resign is false, I challenge anyone canvassing that position to come up with a proof, ." Isenah told NAN by telephone