Guns, Thugs Reign In Bayelsa House As About-To-Resign Speaker Flees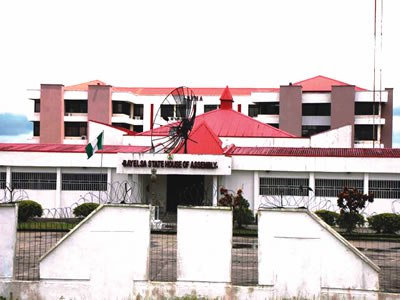 By Asolo Eyedoude
Gun shooting thugs invaded the Bayelsa State hHuse of Assembly just after midday on Monday, disrupting the proceedings for the day and even more, setting into a possible tailspin plans by Governor Serikae Dickson to order a smooth transition for his proposed successor.
The speaker of the House, Rt. Hon. Tonye Emmanuel Isenah who was was expected to resign his position on the floor fled amidst protection by his armed security guards as the thugs shot sporadically into the air to disperse those seated.
Isenah had been pressured by Governor Dickson and some PDP stakeholders to resign his position to give way for Southern Ijaw LGA lawmaker to come in as speaker in order to strengthen the hold of the ruling Peoples Democratic Party, PDP in the Local Government Area.
Southern Ijaw Local Government Area which returns the second highest number of votes in elections after Yenagoa is also the Local Government Area of the All Progressives Congress, APC candidate, David Lyon.
The possible emergence of the new Speaker from Southern Ijaw is expected to bolster the base of the PDP in the area.
Following the rumpus, the majority leader, Monday Obolo from Southern Ijaw announced that he had been elected as the new Speaker of the House of Assembly.