Top Yoruba Monarch Announces Divorce From Foreign Born Wife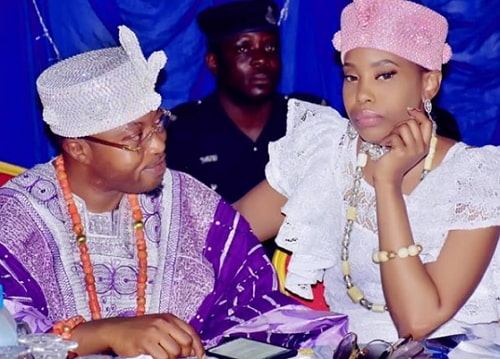 The Oluwo of Iwoland, Oba Abdulrosheed Adewale and his Jamaican born wife, Ms Chanel Chin have announced their separation after four years of marriage.
They were married in November 2015 after their meeting in Canada where they both lived before Oba Adewale ascended to the throne of his forefathers.
The couple announced the separation in a statement on Sunday by the media adviser to the Oluwo, Alli Ibraheem. The statement cited "irreconcilable differences," for the action.
"This is to inform the general public most especially friends and associates of the Oluwo of Iwoland, His Imperial Majesty, Oba (Dr.) Abdulrosheed Adewale Akanbi, Telu I, that Ms Chanel Chin is an ex-queen of his majesty".
"This information is necessary for the attention of the general public to avoid representation on proxy or accordance of respect attached to the sacred stool of Oluwo to her".
"For personal irreconcilable differences, Chanel Chin ceased to be his Majesty's queen. We equally enjoin the public to disregard any business transaction or request with her using the office of his majesty".