Why First Class Yoruba Monarch Divorced Canadian Born Wife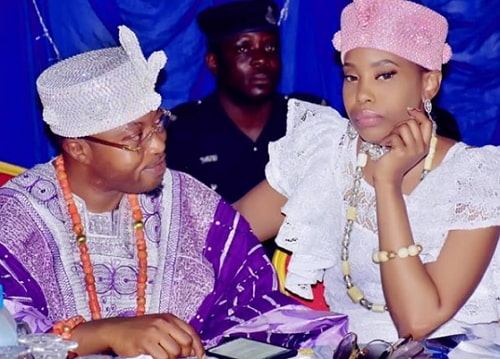 The news that a first class Yoruba monarch, Oluwo of Iwo land, Oba Abdurrosheed Adewale Akanbi Telu 1 has divorced his Canadian born queen, Ms. Chanel Chin may have jolted a large section of the society.
The monarch in the terse press statement issued by his media officer cited irreconcilable differences for the divorce.
But what those differences are was not given in the announcement.
It has now emerged that Ms. Chin despite the love and warmth that surrounded their four-year marriage was not the first wife of the Oba.
Even more she was believed not to be willing despite the profuse love of the monarch for her and the position of first place he gave to her, was not willing to acknowledge the existence of the first wife, Olori Jumoke Akanbi.
Olori Jumoke even had children for the Oba even before the two met in Canada.
Her pretention was made open in an interview with Punch in 2017 that has now come under review.
Asked if she was the first wife, she said:
"Yes. There is no other wife."
Even more, sources say that in keeping with African traditional practices of a monarch keeping many wives that Ms. Chin was unwelcoming of such or of him keeping his concubines.
In the same interview when asked if she would allow the Olowu marry other wives, she said:
"Hummmm. It is the culture here and there is nothing I can do. Although I won't be happy, I don't think he wants to marry another wife. I will accept it because it is part of the culture here. Although it is part of the culture here but things are changing. Polygamy is giving way to monogamy in this modern time and I think it is a good one."
However, deep down she was said not to be welcoming of such.