Naira Marley: Stealing Toyota Camry Beneath Me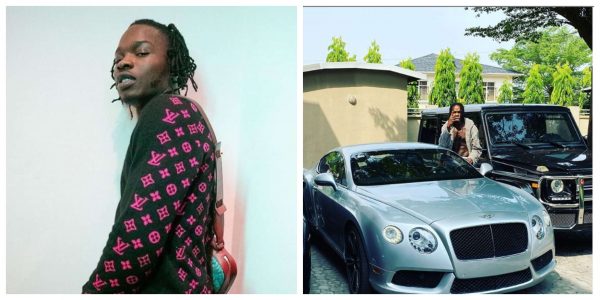 Wanted "I'm a Yahoo boy" crooner, Naira Marley has rubbished talk of his involvement in a car theft as narrated by the police saying it was the fabrication of bloggers.
Naira Marley alongside two of his blood brothers, Idris Fashola and Babatunde Fashola; alongside Kunle Obere were alleged by the police to have stolen a Toyota Camry car with Registration No. FEE 120 AA valued at N1.8 million and an IPhone XS worth N330,000 belonging to one Mr Adelekan Ademola.
The incident reportedly happened in the Victoria Island area of Lagos after the singer's convoy ran into the victim and the car was taken away in the ensuing melee.
An effort by the victim to retrieve the vehicle using the police was reportedly frustrated by associates of the singer.
Reacting to the charge on twitter, Naira Marley said the car he was alleged to have stolen was beneath him putting the news to bad belle people in the media!
"Car theft?? maybe I need to post my bentley, Porsche or benzo. If u lot like try stain my name from today till tomorrow I will still be the next president and who's adeyemi fashola aka Naira Marley. Another free promo I'm guessing".
"Looool I'm still baffled, one bad belle paid bloggers to carry fake news because I'm sure the bloggers didn't sit down to make that up themselves.