Ganduje Says He Has Request To Depose Emir Sanusi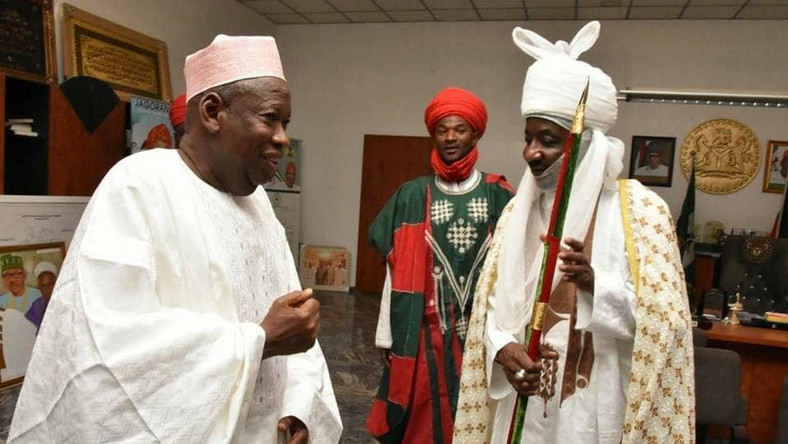 Governor Abdullahi Ganduje on Thursday confirmed that he had received a request from some civil society organisations to depose the emir of Kano, Alhaji Muhammadu Sanusi on the basis of his alleged disloyalty to civil authority.
Ganduje who has been locked in a faceoff with the emir has in the past tried to decimate the kingdom of the emir who has resisted him.
The governor's effort to carve the Kano emirate into five was recently declared illegal by the courts forcing the governor to go back to the drawing boards to redraft a new law creating more emirates out of Kano emirate.
The governor has also been opposed by a group of prominent Kano citizens who flayed him for trying to rubbish a 1,000 year history for the purpose of settling political scores.
The governor's did not identify the 35 CSOs that were said to be partaking in the move against the emir in the statement issued by his media aide.
The aide, however, said that the groups were led by Ibrahim Ali.
The letter purportedly from the group read:
"The coalition of 35 Civil Society Groups under the above mentioned group (UMBRELLA OF KANO CONCERNED CIVIL SOCIETY GROUPS) are curiously studying the unfolding events in the running of Kano State affairs especially in recent time, as it relates to the lingering face-off between the Government of Kano State on one hand and the Emir of Kano on the other hand."
"That the action of the Emir of Kano Malam Muhammadu Sanusi II of continued undermining the constituted authority of the government of Kano State and its organs, is not only unconstitutional, but is an effort to create a state within a state. Which no responsible leadership will tolerate and allow to remain unabated."