Kevin De 'Destroyer': Takes His Place In Football Glory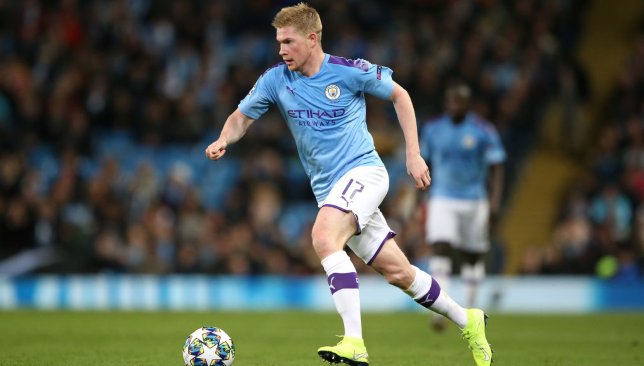 By Ekene Dike
Manchester City's Kevin De Bruyne is regarded by many soccer pundits as one of football's hottest properties. It is no surprise he has been dubbed Kevin De Destroyer!
The Belgian has proved to be one of the greatest footballers in the modern era. He has been immensely involved in Pep Guardiola's success, alongside Sergio Aguero and David Silva at the Etihad Stadium.
Alan Shearer couldn't ignore the Belgian's amazing influence in the past ten years by including him in the his Premier League team of the decade.
Last November, his thunderous strike against Newcastle was voted as the Premier League goal of the month. His technical ability was put on display in a spectacular manner. Many people were left bamboozled by the thunderous strike, leaving the goalkeeper helpless.
In Manchester City's demolition of a woeful Arsenal side, he scored two stunners to silence the Emirates stadium. An inviting cross from Gabriel Jesus was met by De Bruyne's venomous right foot in the first minute of the game. He also provided an assist for Raheem Sterling's goal and scored the last goal with his left foot. A player who is able to make use of both feet is hard to come by.
The Belgian began his Premier League journey with Chelsea. There he struggled to play regular football especially because of the ranking order that was then prevalent in the London club.
Moving forward, he went to Wolfsburg in the German Bundesliga where he rose into prominence. The team was built around him and he was the orchestrator of the goals for the team. At the end of the 2014/2015 season, he was named football player of the year in Germany.
His ability to read the game in conjunction with impeccable passing simply makes him sweet in the middle.
It was not surprising that he not returned to the Premier League with Manchester City as the most expensive signing for the club as at that time. He was signed for a mammoth £54 million amount.
That investment by Manchester City has proven to be profitable as they have won two premier league titles, three league cups and one FA cup since his arrival.
During City's conquest of the Premier League titles, he was indispensable in the team. Impressively, he has over 55 Premier League assists so far and he continues to impress in every game .
Belgium's set of talented players cannot function as a unit without the nexus linking the midfield and the attack in the figure of Kevin De Bruyne. The 28 year old played a crucial role in the team's success to a third place finish in the 2018 World Cup tournament.
The Belgians have been a joy to watch in recent years and are ahead of the pack in the FIFA world rankings, thanks to the ever reliable Kevin De Bruyne.
Some of Kevin De Bruyne's individual awards include:
•Manchester City player of the year (2017/2018)
•Belgian sportsman of the year (2015)