Stranded Canadian Born Deposed Queen Of Oluwo Gets Help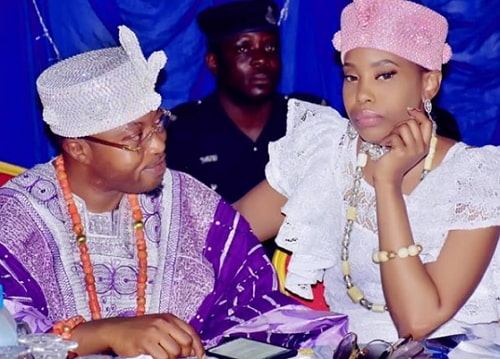 Ms. Chanel Chin, the Canadian born deposed queen of the Oluwo of Iwo Kingdom, Oba Abdurrosheed Adewale Akanbi Telu 1, has been rescued from a life of destitution in Lagos after friends of the first-class Yoruba monarch came to her aid.
The one time apple of the eye of one of Nigeria's most trendy monarchs was thrown out of the palace last weekend after the Oluwo banished her as queen and consort.
No reason was given in the terse statement issued by the Oluwo's media aide.
It was gathered that Chin and her little daughter, Princess Oduduwa were without provision when they arrived Lagos and were set for a life of destitution until friends of the monarch rallied round her.
It was gathered that they have now been accommodated in a top Lagos hotel pending her imminent return to Canada where she met and fell in love with the monarch.
The monarch's Chief Press Secretary, Alli Ibraheem, who issued the statement deposing Ms. Chin as queen had said:
"This is to inform the general public most especially friends and associates of the Oluwo of Iwoland, His Imperial Majesty, Oba (Dr.) Abdulrosheed Adewale Akanbi, Telu I, that Ms Chanel Chin is an ex-queen of his majesty.
"This information is necessary for the attention of the general public to avoid representation on proxy or accordance of respect attached to the sacred stool of Oluwo to her.
"For personal irreconcilable differences, Chanel Chin ceased to be his Majesty's queen. We equally enjoin the public to disregard any business transaction or request with her using the office of his majesty."