After Mourinho Mauling No One Joking With Lampard Again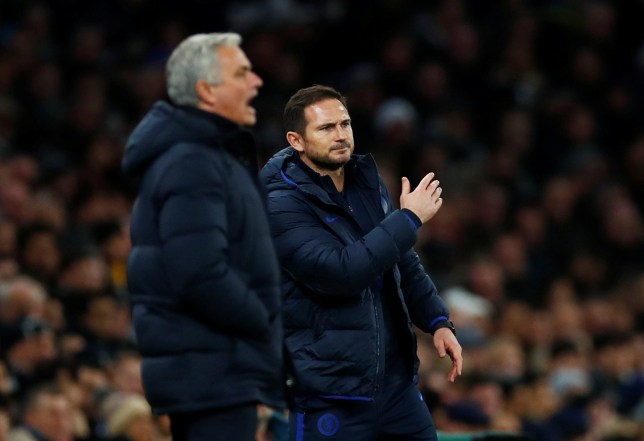 By Ekene Dike
Sunday's English Premier League game between Chelsea and Tottenham was one to remember for the bragging rights and pride involved between both gaffers.
A teacher went into the war zone against his former student.
It was Jose Mourinho's wealth of experience against Frank Lampard's enthusiasm for a big victory.
Chelsea's Willian was the hero of the day as his brace in the first half won the game for the Blues. In a game where both teams were in an exciting mood to entertain the football world, it ended in favour of Frank Lampard's team.
The match was more than just a football game. Many things were at stake.
The gruelling London derby was a clash of the titans between a coaching rookie and a coaching legend. A former employer and employee went into battle with each of them wanting to triumph over the other.
Jose Mourinho was astonished by Frank Lampard's tactical magnificence.
Few expected that Mourinho's first loss on home ground will be served through a former disciple of his. But so it turned out to be.
Super Frankie who was more of a novice compared to the Special One, caused a famous upset inspired by his will and drive to take Chelsea to the next stage.
However, these two coaches have similar features as legends of Chelsea. Jose Mourinho came to the London club with the aim of uplifting the status of the team which he accomplished with Lampard playing an enormous role in his successful spell as Chelsea manager. The Portuguese was exquisite during his stay at Chelsea, helping them to win the English Premier League.
Lampard was one of his special players alongside Didier Drogba, Michael Essien and John Terry. Mourinho also went on to coach bigger clubs like Real Madrid and Manchester United before venturing into the adventure of controlling the affairs of the Spurs team.
Frank Lampard heralded his coaching career with Derby County and one of his memorable highlights was eliminating Manchester United from the Carabao Cup. Football's unpredictable nature justified Lampard's elusive victory yesterday in the encounter . The special one will have to retrace his tactical steps in order to prevent such upsets from reoccurring in the nearest future.