Christian Group Puts Sultan To Task On Activities Of Boko Haram, Killer Herdsmen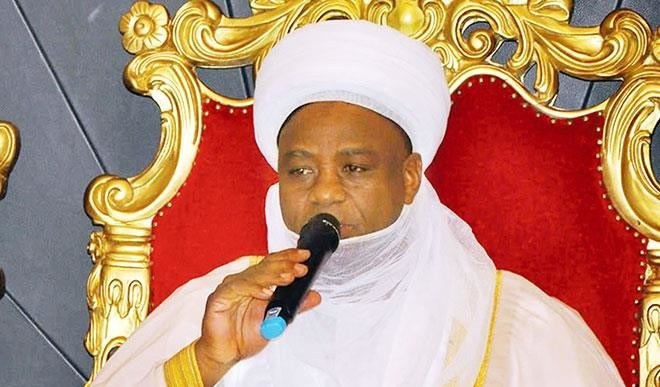 The Nigerian Christian Graduate Fellowship (NCGF) has taken Sultan Saad Abubakar III to task over the disgrace that the activities of Boko Haram and killer herdsmen have brought to Nigerian Muslims saying he should address the issue.
Responding to the upbraiding of the Christian Association of Nigeria, CAN over its commendation of the United States report of the suppression of religious freedom in Nigeria, the Christian body expressed concern that the sultan had found voice to condemn CAN instead of addressing the content of the US report.
While observing that the sultan had been largely quiet in the killing of Christians in the North, the NCGF in the statement issued by its president, Prof. Charles Adisa and General Secretary, Mr Onyenachi Nwaegeruo said:
"We thought the Sultan should address the subject matter of the international opprobrium which Boko Haram and Fulani herdsmen have brought to the nation rather than make scape goat of Christian Association of Nigeria. Or is his Eminence contesting that there is no religious intolerance in Nigeria?
"If that is the position we can say that the Sultan is being economical with the truth or is an accomplice.
"For the Nigeria Christian Graduate Fellowship that tutorial on the need for CAN to analyze issues before reacting is unnecessary. The Sultan cannot fault CAN and its allies on the issue of research on effects of Islamic fundamentalism in Nigeria. We are aware that there exist quantum documentary evidence of the murderous acts of Muslims against Nigerian Christians.
"Further, we are aware that the information at the disposal of the US which informed the decision to blacklist Nigeria is a combined effort of independent investigators and domestic observers of the nefarious activities of Muslim extremists and terrorists especially Boko Haram and Fulani herdsmen.
"Though the Nigeria Christian Graduate Fellowship is not CAN leadership; however, in agreement with CAN, we are embarrassed on the double standard attitude of the sultanate, an institution that has kept mute to the serial decimation of Christian communities in the North which has now suddenly found its voice because the government that has carried on as an appendage of the sultanate is under fire. It is understandable why his Eminence has become the government spokesman."
"In case, the Sultan and the Supreme Council for Islamic Affairs willingly choose not to document the overwhelming evidence or they have, but chose to hide the facts, the Nigeria Christian Graduate fellowship here highlights the recorded incidents leading to the US decision.
"But before we do this, may we remind his Eminence that it is ungodly that his office has never to the best of our knowledge condemned these murderous acts, even the most recent ones in Yobe state and Chibok in Borno state where Boko Haram attacked Christian communities on Christmas eve.
"But you found time to react to listing of Nigeria as a place where Christians are being killed on a daily basis."