Sowore: Fani-Kayode's Claim Of Fayemi, Kyari Role In Release Debunked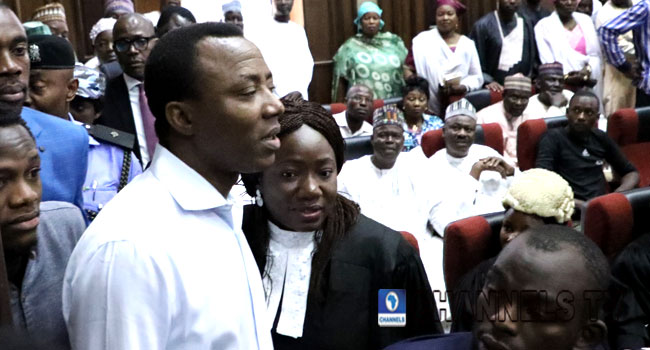 By Editor
Claims by Femi Fani-Kayode that the liberal wing of the cabal in the presidency influenced the release of Omoyele Sowore have been debunked as fake news.
Fani-Kayode had in a tweet claimed with authority that the release of Sowore and Col. Sambo Dasuki was on account of the influence of the liberal wing of the presidency. He cited those who brought the pressure to include Governor Kayode Fayemi, minister of aviation, Haidi Sariki, the attorney general of the federation, Abubakar Malami and the chief of staff to the president, Abba Kyari.
That narrative has now been swiftly dismissed by an American based activist, Ademola Bello who is reported to have been embedded in the international agitation for the release of Sowore.
He told Saharareporters that apart from leading US lawmakers and groups, the intervention of prominent media organisations like CBS, NBC, ABC, Democracy Now, CNN, New York Times, Sahara Reporters, PUNCH and Premium Times helped to force the Nigerian government to release the duo.
He said:
"The story credited to Femi Fani-Kayode on how Sowore was release is not only a misinformation, but also a hoax and fake.
"It undermines the role played by Mrs Opeyemi Sowore in securing her husband's release, it undermines the international advocacy led by a small group of people in the United States including yours sincerely through the mobilisation of the international community, media coverage, outreach to organisations and elected officials, etc.
"All these efforts we made paid off in getting Omoyele Sowore released. And our international campaign in getting Sowore released possibly helped Dasuki's as well.
"Moreover, the false claim and publication also undermines efforts made by US lawmakers, who sent letters to Mr Malami about releasing Sowore.
"The false publication also undermines the role played by the US Government through the State Department.
"More importantly, it undermined the role played by the Sowore legal team led by Mr Femi Falana (SAN).
"I can state authoritatively that Governor Kayode Fayemi did not play any role in securing the release of Sowore.
"Columbia University, the alma mater of Sowore wrote Fayemi an email letter to intervene regarding his detention. He ignored the letter sent by Prof Anya Schiffrin on behalf of Columbia University.
"I wrote a follow-up email letter to Mr Fayemi, he ignored it as well.
"Abba Kyari and Malami are two of the people responsible for Sowore's detention. It is silly for any media organisation in Nigeria to credit the same people who inflicted pain and suffering on Sowore when they refused to obey the two court orders calling for his release.
"Hadi Sirika is a Buhari apologist, he did not play any role in securing Omoyele Sowore's release."