Can Leicester Survive Title Chase After Liverpool Wreck?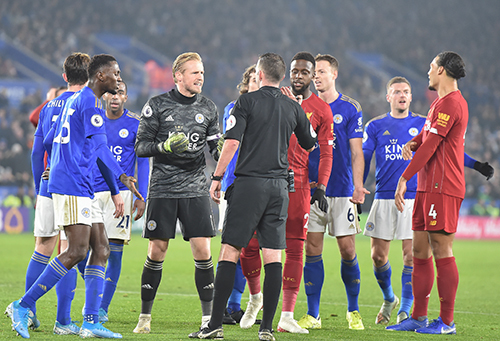 Leicester City face West Ham on Saturday evening with Coach Brendan Rogers hoping that the boys would have recovered from the 0-4 trashing the league runner up received in the hands of league leaders Liverpool on Boxing Day.
They face a desperate West Ham which is equally under pressure after a poor run under Coach Manuel Pellegrini. So, Leicester have their job cut for them if they have a hope of remaining as favourite to go up should the improbable happen and Liverpool lose form in the second round of the 2019/20 premier league.
The loopholes in the Leicester team seem to have been discovered after their embarrassing loss to Liverpool at the King Power Stadium.
The Boxing Day outing was a catastrophic outing for the Foxes in the hands of the Reds.
A fine showing from Trent Alexander Arnold destabilized what hope there was of Leicester's title chances. The prodigy provided two assists and scored a goal in the 4-0 massacre.
Earlier on December 21, the Foxes succumbed to a defeat in the hands of the defending champions, Manchester City making it two defeats in a row for the first time this season.
Jamie Vardy's opener was cancelled out by Riyad Mahrez, Ikay Gundogan and Gabriel Jesus.
Both defeats now threaten their title chances except for an unexpected collapse by Liverpool.
Although statistically it is possible for them to clinch the title, but practically it looks impossible. The Reds outplayed the Foxes in all parts of the pitch from the defense to the attack.
Leicester were consigned to play second fiddle to a dominant Jurgen Klopp side. It was a poor showing considering the pre-match analysis.
Brendan Rodgers' team is currently in a state of disarray following the back to back defeats caused by stronger teams. The losses do not make Leicester a bad team but shows that they might not be good enough to challenge for the title.
They might have to settle down for a Uefa Champions League qualification spot. It might indeed sound over ambitious if they dream of winning the league with the likes of the European Champions and the defending Champions also eyeing the trophy.
In 2016, they overwhelmingly won the Premier League under Claudio Ranieri in one of the most shocking moments in football history.
Now every team is on them as no one wants to be used as the surprise button for the 2016 champions in 2020.