Prominent Yoruba Monarch Says Former Canadian Queen Not Stranded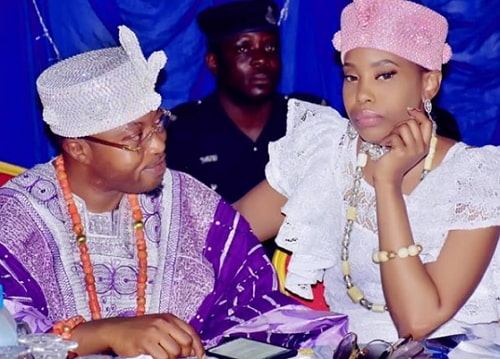 First class Yoruba monrach, Oluwo of Iwo kingdom, Oba Abdurrosheed Adewale Akanbi Telu 1, who sent his Canadian queen, Chanel Chin packing from the palace two weeks ago has dismissed insinuations that he left her stranded in Nigeria.
The Iwo monarch who was married to Ms. Chin for about four years and who has a son, Prince Oduduwa from Ms. Chin went to social media to deny the claim saying that five star hotel was provided for her pending her departure from Nigeria to Canada.
In a posting on Instagram, with a picture of a horse waiting for someone to mount it, the monarch through his Chief Press Secretary, Alli Ibraheem said that every arrangement for the safe passage of the former queen to Canada had been made but inferred that Ms. Chin was deterring.
He even suggested that the Canadian High Commission would not allow an ordinary Canadian to be stranded in Lagos.
He affirmed that if Ms. Chin chooses to remain in Nigeria that it is not his business.
"The Horse is waiting but you can't force the passenger!!! To who cares to listen….ticket has been provided since 18th of December, 2019, 5 star hotel fully paid till date of travel!! And ask yourself a question….can a Canadian be stranded in Nigeria even if a ticket is not provided?? The Candaian embassy and Government is one of the most responsible in the world. If someone chooses to stay back for whatever reason, its none of our business. The needful has been done by providing the necessary travelling arrangements."