Hajj 2020: NAHCON Promises To Secure Accommodation Close To Makkah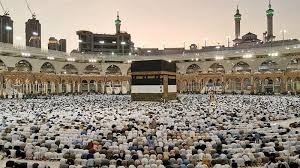 In order to ensure a free hajj in 2020, the National Hajj Commission of Nigeria (NAHCON) has pledged to provide accommodation situated not more than two kilometres to the holy Mosque in Makkah .
The commission, however, said that shuttle buses must be provided to transport pilgrims, if their accommodation are situated more than two kilometres.
Fatima Usara, Head of Public Affairs of NAHCON, said this on Monday in an interview with News Agency of Nigeria (NAN) in Abuja.
Usara said the move was aimed at reducing the stress pilgrims at the holy mosque usually go through.
She said that the commission has already instructed state pilgrims welfare boards not to book accommodation situated more than two kilometres to the Holy Mosque in Makkah.
She said, "It has been the tradition that houses reserved for pilgrims should not be more than two kilometres away from the holy Mosque in Makkah.
"NAHCON always go round to supervise all the accommodations booked by the State Hajj officials to ensure that the building is in good condition, toilets are clean, the hotel elevators are working.
"We only supervise to ensure that pilgrims are not shortchanged."
The official said the commission had directed state pilgrims welfare boards to commence the process of collecting hajj fare from intending pilgrims wishing to perform the 2020 hajj.