Ronaldo @ 35: Celebrating A Football Legend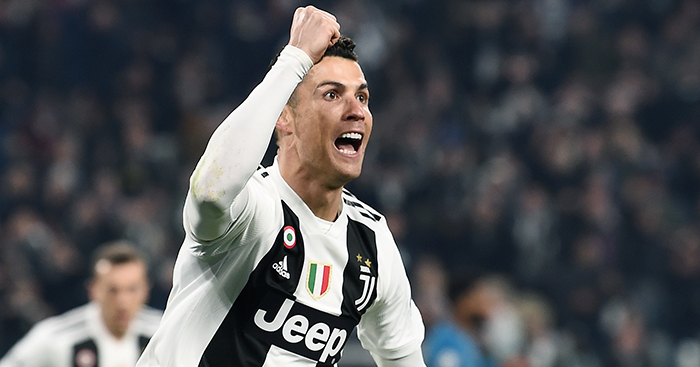 By Ekene Dike
On the 5th of February 1985, a football legend was born. He was sent by the gods of football to spread happiness through breathtaking performances and goal scoring.
This man is Cristiano Ronaldo. He was born in Madeira, Portugal.
He started playing for Sporting Lisbon, mesmerized the Manchester United defense, signed for the Red Devils in 2003, won the Ballon d'or in 2009, proceeded to Real Madrid as the world's most expensive player, won four Champions League trophies, signed for Juventus won the Serie A and is currently part of the highest goal scorers in the league.
Ronaldo is just a phenomenon. His records are astonishing . The Portuguese has become one of the greatest players of all time.
However , what make his existence more interesting is his ability to contest against Lionel Messi who is regarded as another amazing talent. These two have taken sports rivalry to the highest level and they are undoubtedly among the greatest to have ever played the game.
HONORS AND ACHIEVEMENTS
Sporting
• Supertaça Cândido de Oliveira: 2002
Manchester United
• Premier League: 2006–07, 2007–08, 2008–09
• FA Cup: 2003–04
• Football League Cup: 2005–06, 2008–09
• FA Community Shield: 2007
• UEFA Champions League: 2007–08
• FIFA Club World Cup: 2008
Real Madrid
• La Liga: 2011–12, 2016–17
• Copa del Rey: 2010–11, 2013–14
• Supercopa de España: 2012, 2017
• UEFA Champions League: 2013–14, 2015–16, 2016–17, 2017–18
• UEFA Super Cup: 2014, 2017
• FIFA Club World Cup: 2014, 2016, 2017
Juventus
• Serie A: 2018–19
• Supercoppa Italiana: 2018
Portugal
• UEFA European Championship: 2016
• UEFA Nations League: 2018–19
Individual
• FIFA Ballon d'Or/Ballon d'Or: 2008, 2013, 2014, 2016, 2017
• FIFA World Player of the Year: 2008
• FIFPro World Player of the Year:
• The Best FIFA Men's Player: 2016, 2017
• UEFA Best Player in Europe Award: 2014, 2016, 201
• UEFA Club Footballer of the Year: 2007–08
• UEFA Club Forward of the Year: 2007–08
• FIFPro Special Young Player of the Year: 2003–04, 2004–05
• PFA Portuguese Player of the Year: 2016, 2017, 2018, 2019
• European Golden Shoe: 2007–08, 2010–11, 2013–14, 2014–15
• FIFA Puskás Award: 2009
• FIFA FIFPro World11: 2007, 2008, 2009, 2010, 2011, 2012, 2013, 2014, 2015, 2016, 2017, 2018, 2019
• UEFA Team of the Year: 2004, 2007, 2008, 2009, 2010, 2011, 2012, 2013, 2014, 2015, 2016, 2017, 2018, 2019
• UEFA Champions League Squad of the Season: 2013–14, 2014–15, 2015–16, 2016–17, 2017–18, 2018–19
• UEFA European Championship Team of the Tournament: 2004, 2012, 2016
• UEFA European Championship Silver Boot: 2016
• UEFA Ultimate Team of the Year (published 2017)
• UEFA Nations League Finals Team of the Tournament: 2019
• FIFA World Cup Dream Team: 2018
• FIFA Club World Cup Golden Ball: 2016
• FIFA Club World Cup Silver Ball: 2008,2014,2017
• PFA Young Player of the Year: 2006–07
• PFA Players' Player of the Year: 2006–07,2007–08
• Premier League Player of the Season: 2006–07, 2007–08
• FWA Footballer of the Year: 2006–07, 2007–08
• PFA Premier League Team of the Year: 2005–06,2006–07,2007–08,2008–09
• Premier League Golden Boot: 2007–08
• La Liga Best Player: 2013–14
• La Liga Best Forward: 2013–14
• La Liga Most Valuable Player: 2012–13
• La Liga Team of the Season: 2013–14,2014–15,2015–16
• UEFA La Liga Team of The Season: 2015–16, 2016–17
• BBC Overseas Sports Personality of the Year: 2014
• Serie A Most Valuable Player: 2018–19
• Serie A Footballer of the Year: 2019
• Serie A Team of the Year: 2018–19