Kukah Hits Buhari: Nigeria Is A Stranded Ship With Broken Down Navigational Aids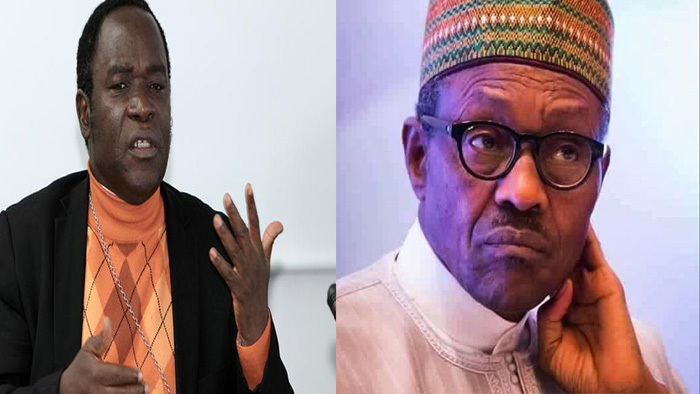 Bishop Matthew Kukah has fired a blistering criticism of President Muhammadu Buhari's leadership of the country saying that the country is now like a ship with broken down navigational aids and stranded on the high seas.
Delivering his homily at the burial in Kaduna of Michael Nnadi, the young seminarian killed by his kidnappers who abducted him and three others from the Good Shepherd Seminary, Kaduna, Kukah said Buhari had foisted the most divisive leadership in the history of the country.
He said that despite that that he had also failed in his pledge to lead from the front leading to lamentations even from leading Muslims and Fulani.
He said that the president had in the course of his leadership won a bad name and reputation to his Fulani kinsmen.
"This is the moment that separates darkness from light, good from evil. Our nation is like a ship stranded on the high seas, rudderless and with broken navigational aids.
"Today, our years of hypocrisy, duplicity, fabricated integrity, false piety, empty morality, fraud and Pharisaism have caught up with us. Nigeria is on the crossroads and its future hangs precariously in a balance."
"No one could have imagined that in winning the Presidency, General Buhari would bring nepotism and clannishness into the military and the ancillary Security Agencies, that his government would be marked by supremacist and divisive policies that would push our country to the brink. This President has displayed the greatest degree of insensitivity in managing our country's rich diversity.
"He has subordinated the larger interests of the country to the hegemonic interests of his co-religionists and clansmen and women. The impression created now is that, to hold a key and strategic position in Nigeria today, it is more important to be a northern Muslim than a Nigerian.
"Today, in Nigeria, the noble religion of Islam has convulsed. It has become associated with some of worst fears among our people. Muslim scholars, traditional rulers and intellectuals have continued to cry out helplessly, asking for their religion and region to be freed from this chokehold. This is because, in all of this, neither Islam nor the north can identify any real benefits from these years that have been consumed by the locusts that this government has unleashed on our country.
"The Fulani, his innocent kinsmen, have become the subject of opprobrium, ridicule, defamation, calumny and obloquy. His north has become one large grave yard, a valley of dry bones, the nastiest and the most brutish part of our dear country.
"His Eminence, the Sultan of Sokoto, and the Emir of Kano are the two most powerful traditional and moral leaders in Islam today. None of them is happy and they have said so loud and clear. The Sultan recently lamented the tragic consequences of power being in the wrong hands."
President Buhari who is in Ethiopia for a state visit has yet to respond.