Showdown At The Bridge: Vengeance Rhymes As Chelsea Confront Man U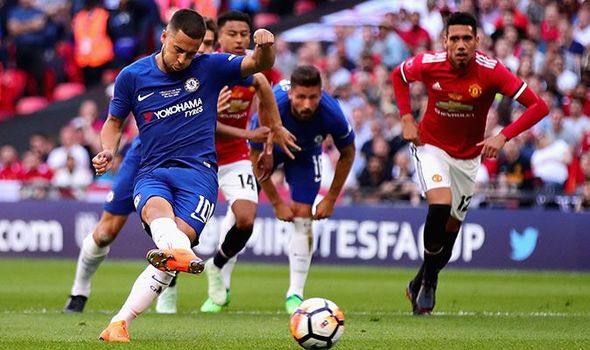 By Ekene Dike
Two English football powerhouses are set to clash again on Monday night at Stamford Bridge. Both sides are strong contenders for a UEFA Champions League spot.
It is going to be a scintillating fixture as Frank Lampard cannot afford to face the ridicule of defeat in the hands of the Ole Gunnar Solkjaer's Red Devils at home.
Manchester United are six points adrift of their opponents in the league and another loss will be detrimental to their bid to participate in Europe's elite club competition. Although, Manchester City's ban from the Champions League for two years provides room for a fifth placed team to qualify.
However, winning in Stamford Bridge will be an uphill task. Solksjaer will hope that his new signings, Bruno Fernandes and Odion Ighalo can propel the team to victory on enemy territory.
However, both teams have dropped vital points and inconsistency has been a major barrier for both sides. But, Frank Lampard's side have been more consistent at home.
Hitherto, the two teams have met twice this season in the Premier League and Carabao Cup with the Red Devils ending up as the victors on both occasions. On the opening day of the season, Manchester United walloped Chelsea 4-0 at Old Trafford and eliminated Chelsea in the Carabao Cup at Stamford Bridge as the game ended 2-1. Marcus Rashford stole the show with his two goals, first from the penalty spot and the second was a sensational free kick goal. Unfortunately, he will miss out of the encounter due to injury.
It is noteworthy that the second match was played at Stamford Bridge and Chelsea lost. No team loves to be beaten twice at home, thus the Blues wouldn't like to disappoint their cheering supporters at home again. Once beaten, twice shy.
This is an opportunity for Frank Lampard to kill two birds with one stone by avenging the embarrassing 4-0 loss at the beginning of the season and the Carabao Cup loss at home.
Nevertheless, they are chasing a Champions League spot and another avoidable slip could dent their chances. Chelsea haven't defeated Manchester United in their last five meetings in all competitions and their direct rivals have appeared as the superior team in recent times.
They are as such eager to end the dominance in grand style. The last time the Blues defeated the Red Devils was in May 2018 in the FA Cup when Eden Hazard scored a penalty to hand the Blues their eighth title.