Buhari's Supporters Mock PDP's Stance On Bayelsa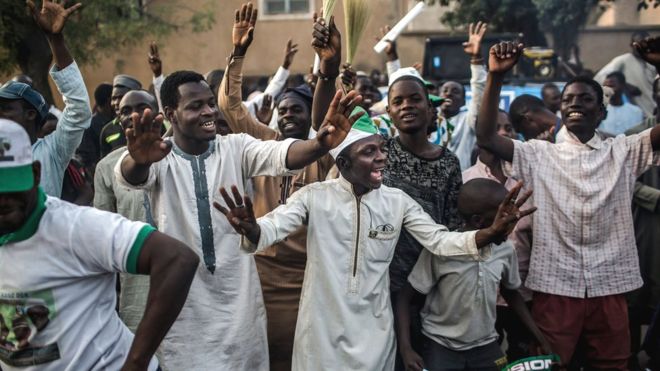 The Peoples Democratic Party (PDP) and its leaders should apologise to the Chief Justice of Nigeria (CJN) Justice Tanko Mohammed for the invectives they poured on him, the Supreme Court and the judiciary whenever court decisions went against them.
The Buhari Media Organisation (BMO) made this call in reaction to PDP's muted response to the Supreme Court decision that awarded the Bayelsa governorship election to the party after invalidating the electoral victory of David Lyon of the All Progressives Congress (APC).
In a statement signed by its Chairman Niyi Akinsiju and Secretary Cassidy Madueke, BMO insisted that PDP is a gathering of hypocrites with little respect for national institutions.
"After several ill-advised protests against the judiciary and series of invectives against the person of Chief Justice Tanko Muhammed, it was not surprising that the usually loquacious Uche Secondus was tongue-tied when the media sought his reaction to the Supreme Court's ruling on Bayelsa State gubernatorial election.
"We recall how, after the Supreme Court upheld the election of President Buhari, the opposition party suggested that Justice Muhammed that had been in the apex court since 2006 was not qualified to be CJN. "
"Unprintable words were also used online and offline to describe the apex court, on his watch, especially after some decisions did not favour PDP.
"So, like many Nigerians, we expect them, if they are indeed men and women of honour, to eat their words, and apologise to a man and an institution that they had not only ridiculed locally but also in the eyes of the international community.
"We consider it disingenuous that Secondus described the decision of a Supreme Court panel headed by Justice Mary Odili as a victory for rule of law, but he never for once saw or accepted decisions that went against his party in a similar light," the group said.
BMO noted that the composition of the panel shows that the CJN has been non-partisan in his handling of affairs at the Supreme Court.
"There is no politically conscious Nigerian that does not know that Justice Mary Odili is the wife of a senior PDP member, yet Justice Muhammed did not consider that as enough reason to deny her the chance to head a panel to sit on a matter as important as that."