Tope Alabi Justifies 'Worldly' Dance Steps As Daddy Freeze Reacts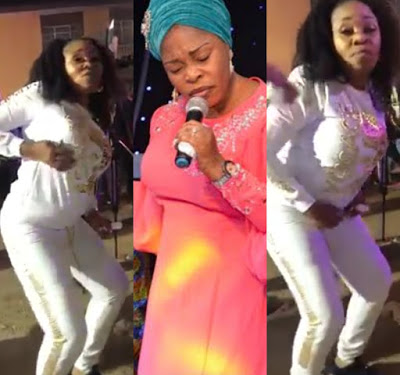 By Ayodele Oluwafemi
The recent video of the dance steps of Tope Alabi, the Nigeria gospel Singer, have not gone down well with many Christians, who believe that the revered gospel Singer has gone the way of 'worldiness'.
Tope Alabi, in a recent video, that went viral was seen performing the dance steps initiated by the popular hip-hop musician, Zlatan Ibile.
The dance steps popularly known as 'legwork and gbe body' was performed by the gospel Singer during the burial ceremony of her father, Pa Joseph Akinyele Obayomi, Tope's dad, who died on December 13, 2019.
When the video surfaced, online, the singer received harsh criticisms from many Christians, who believed that the gospel singer has compromised her stance for wordly lust.
Many of her fans expressed disappointment in her public display of the 'legwork and gbe body' dance steps.
Reacting to the backlash, in a programme on TVC, said that even as a spiritual person, one needs to dance, as it is not easy to bury one's father.
According to her, "I  needed that dance, it was at my father's burial. I just needed to dance and worship God. As a spiritual person, you know you need that dance. It's not easy to bury one's father."
However, On-Air Personality, Daddy Freeze differed saying:
"I don't see this as worldly, there is nothing wrong with her dancing. However, in my honest opinion, the dance step is rather repulsive and it makes her look contorted and uncouth. African dance steps are graceful and elegant, this isn't. To me she looks like a pair of worms mating," he wrote.