Obinna Nwaneri @ 38: Minister Of Football Defence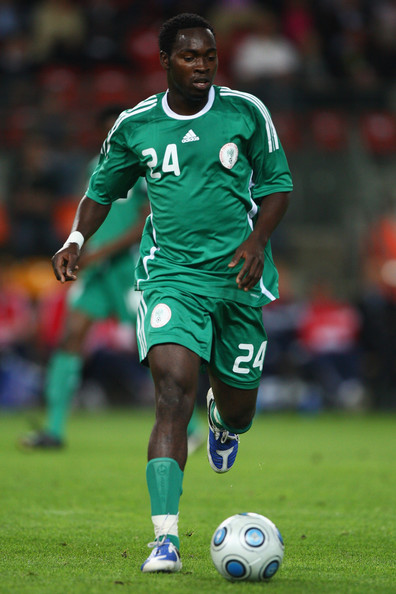 By Ekene Dike
Obinna Nwaneri's impressive physical presence and never say never spirit made him stand out as a sportsman. That enabled him to be an effective strongman in the heart of the defense of the Super Eagles of Nigeria and his various club sides.
With an impressive height of 6ft 0 inches, he in his playing days operated at the center back, right back and also operated as a center forward, depending on what the coach wanted.
The Nigerian footballer had a stellar career with the Super Eagles of Nigeria while he played from 2005 to 2010. At club level, he was a crucial player for the likes of Enyimba and FC Sion where he featured as the captain of both teams.
His ability to control the pace of the game from the central defense enabled him to galvanize Enyimba to win the Caf Champions League in 2004 after an intense penalty shootout against Tunisian heavyweights Ètoile du Sahel. After making history at Enyinmba, he went to seek for greener pastures in FC sion.
In 2000, he was able to play for a star studded Julius Berger side in the Nigerian Pepsi League.
Eyinmba of Aba benefited the most from the sumptuous talent , energy and dedication of the defender as he helped them clinch the CAF Champions League trophy in 2003/2004 season and also inspired them to a second place finish on the table of the Nigerian Premier League that same season.
At FC Sion, he won the Swiss Cup in the 2008/2009 season. That trophy was one of the most craved trophies in Swiss club football and he was instrumental as they laid their hands on it.
More silverware were added to his cabinet of trophies at Kazema SC in Kuwait and Kelantan in Malaysia where he won the Kuwait Super Cup in the 2010/2011 season and the Malaysia Super League in 2012. As well as the Malaysia Super Cup in 2012 and 2013.
At 38 on Wednesday, March 18, 2020, Nwaneri has undoubtedly earned his place in history, if not in the eyes of sports lovers, definitely in the opinion of the many attackers he frustrated in the field of play.