IPAC Lauds Seyi Makinde On Four-Point Agenda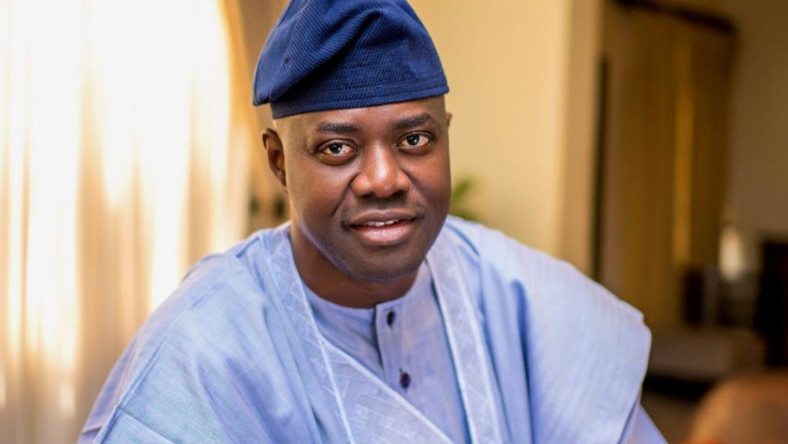 By Chuks Ekpeneru
The Inter Party Advisory Council of Nigeria (IPAC), Oyo State Chapter has commended the administration of Governor Seyi Makinde for keeping to it's 4-Points Agenda in the state.
In a statement, IPAC Oyo State Chairman, Adelekan Mathew Akin, said the Council deployed appraisal mechanism to guage the 300 days of the Engr. Seyi Makinde-led administration in enhancing the administering of affairs of our dear Oyo State. 
According to him, "The present administration having been founded on 4-Points Agenda, it is on same the appraisal is based. The 4-points being (i) Expansion of the economy of the state through the agriculture value chain; (ii) Security; (iii) Health; and (iv) Education.
He said the state government has set in motion its policy to boost the economy of the state through agriculture. 
"To make this happen, there is ongoing implementation of programme to revive all the farm settlements across state, with funds provided in the Oyo State Appropriation Act 2020.
"The administration inaugurated an economic and investment- Oyo Ile Investors' Forum, held strategic engagement with agri-sector stakeholders during the Oyo State Agribusiness Strategic Planning Retreat which included a tour of the renowned Songhai farms to replicate the model in Oyo State. The administration entered a public-private partnership arrangement with agritech company, Farmcrowdy, to commence a three-year plan working with 50,000 farmers to boost agribusiness in Oyo State.
On security, IPAC said the Makinde-led administration fashioned a new security architecture aimed at complementing the efforts of the police and other security agencies in combating crimes across the state.
"It procured and put in place 100 surveillance vehicles to strengthen the security agencies.
"The administration played host to the Development Agenda for Western Nigeria Commission Security Summit, the outcome of which was the ultimate formation of Amotekun, for regional approach to security challenges in South-West states.
"The government forestalled the usual break down of law and order in leadership tussle in the Nigerian Union of Road Transport Workers, Oyo State; resolved the butchers' crisis at Ibadan Abattoir; hosted the South-West Geopolitical Zone Security Summit, convened by the Inspector-General of Police, where community policing measures were fashioned, with attendance Nigeria Police Force partnership with other security agencies, to address insecurity in the region.
IPAC scored the administration high in the area of healthcare, saying the government has consolidated on the Health Insurance Scheme initiated by the past APC-led adminstration, by widening the scope and reach of engagement with matching renovation and upgrading of the state-owned hospitals and health care centers like Adeoyo Hospital, Yemetu, for effective healthcare delivery.
In education, the statement said the Makinde-led administration hit the ground running on a promising note by abolishing all levies payment in all public schools in Oyo state and initiated a full-package free education initiative on its first day.
"The administration abolished the N3,000 school fees for senior secondary school students, to encourage the enrolment of the 400,000 out-of-school children; abolished the entrance examination fees from Primary School to Junior Secondary School, leading to an unprecedented large turnout of pupils for the entrance examinations. This administration also provide exercise books and textbooks in all public schools but primary and secondary schools.
"While the Makinde-led government has also inaugurated panels to look into smooth runnings of Ibarapa Polytechnic, Eruwa, and Oke Ogun Polytechnic, Saki, it  also revived the long suspended bursary payment to law school students with unprecedented upward review to N500,000 per student.
"To its conviction that education is the foundation for sustainable development, the current administration ensured an upward review of the budgetary allocation for education from 3% to 10% in the 2019 Appropriation.
"From the above, it is not contestable that Oyo State has in this short time, improved on many sides; but arguably with much still to be done; and those here below are highlighted. "On the quest to double the Internally Generated Revenue (IGR) of the state, Park Managers System, PMS, was introduced to bring sanity and accountability in the public transportation sector of the state.
"The new PMS price is a laudable achievement but its primary purpose is being threatened by notable administration flaws. It is regrettable that the PMS instead of harnessing the sector as a major revenue generation avenue for the state, has again become a medium of extortion, brigand, etc as it was under the NURTW. This is a great sabotage to the intention of the Makinde-led government. 
,"The problem stemmed from the appointment of the ex-NURTW boss, who was hired as Disciplinary Committee Chairman to monitor activities of the PMS who are on the other hand has been taken over by his followers deployed to man the parks and bus stops; which clearly is a deviation from their job description.
"With the chief  among their activities being extortion from the motorists more than the expected remitted dues to the government, the Inter Party Advisory Council of Nigeria, Oyo Chapter, in the interest of the good people of this state, advise the government to look closely into this and remedy this ugly trend.
"While it is in the overall thoughts of the Oyo State IPAC that this government has not done bad in terms of human and material resources, intellectual, infrastructure and welfare intervention, but looking forward to the one year of this administration which is less than 3 month, there are more room for improvements to balance the pendulum of performance to match campaign promises and expectations of the  good people of the state. 
"We congratulate the governor and the good people of Oyo State; and urge the governor to embrace more inclusiveness in governance and policy making as promised and also address his approach towards PMS. We also wish to bring it to the notice of His Excellency, the promise to always hold quarterly month feedback meeting with the good people of Oyo State, a feedback method to run a people-oriented government.
"IPAC Oyo State in its role as an information clearing house for the Oyo state citizens who are teeming members of various political parties, partners in government for both ruling and opposition and the political representation of the Oyo electorates will continue to support the government of Engr. Seyi Makinde to continue to succeed and deliver on its campaign promises; and also continue to lend altruistic advices where necessary to  enhance the quality of the Makinde-led people's government of Oyo State."