As Buhari Appears, Supporters Lash Iranian Imam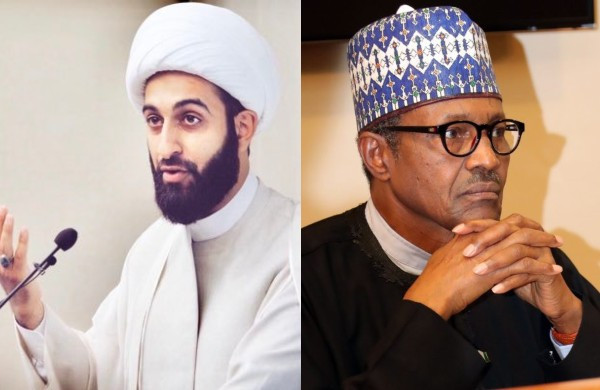 Supporters of President Muhammadu Buhari were on Saturday claiming victory after fighting off attacks against the Nigerian leader by the Iranian born Islamic cleric, Imam Mohammed Tawhidi.
The cleric had since Friday waged a twitter war against Buhari and his leading social media aides over allegations of incompetence on the part of the president was, however, stopped in his tracks on Saturday as he resumed the war.
He had called out the president to come out and address the nation taunting his failure to lead from the front.
He was, however, seriously fought back through apparently coordinated attacks that sought to degrade the person of Australia based cleric.
The perceived victory of the Buhari supporters nonetheless, Nigerian critics of Buhari as yesterday were full of praise for the Iranian, hailing him for causing Buhari to host a meeting with the minister of health, Dr. Osagie Ehanire and officials of the National Centre for Disease Control, NCDC.
Among the Buhari supporters who came on board on Saturday to squelch the fiery Imam Tawhidi was the chairman of the Nigerian Diaspora Commission, Hon. Abike Dabiri-Erewa.
Not surprisingly, Imam Tawhidi celebrated on social media as the Imam of Peace was backed by former presidential aide, Reno Omokri.
Tawhidi had on Friday launched the first salvo with a blistering attack on President Buhari's perceived failure to address the nation on the COVID-19 pandemic blasting the Nigerian leader for failing to lead from the front.
His assertion was immediately rebuffed by some presidential aides which led him to launch a series of tweets against the Nigerian leader leading the Buhari supporters to take a retreat.
On Saturday, Imam Tawhidi was back but met his match as supporters of the president launched attacks on him mocking him in nude caricature, creating a hashtag Imam of Piss to ridicule the Iranian.
The apparently well coordinated attack saw Imam Tawhidi being ridiculed as a fake Imam, fake Muslim among others.
The apparently coordinated attack was preceded by a twitter broadcast where the Imam alleged duplicity on the part of presidential aides. He alleged among others that the aides of the president were in conspiracy with Boko Haram alleging that that was the reason the insurgency had festered.
The attacks against the Iranian, however, came late as it was already midnight in Australia where he is based.
In the face of the savage from the Buharists, Nigerian critics of President Buhari weighed in from time to time praising the Iranian Imam and defending him for echoing what they claimed were their views. Some alleged that the attack was what led the president to appear on video during the visit of Dr. Ehanire.
GreenWhiteGreen gathered some of the tweets thus: