Hope As Daily COVID-19 Cases Decline To 14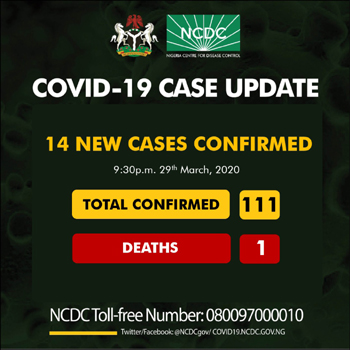 There was a heightened expectation in Nigeria on Sunday night as the National Centre for Disease Control, NCDC disclosed 14 new cases of the COVID-19 infection for Sunday.
It was two less than the 16 cases reported on Saturday. It was the first time that there was decline in the daily reports since the NCDC started its daily report of COVID-19 incidents in the country.
With the clampdown on Lagos and Abuja the two hotspots of the coronavirus pandemic in the country, stakeholders would be watching out for the outcome in the next few days if Nigeria had truly bent the curve on the transmission of the disease in the country.
The NCDC tweeted thus: