Umahi's Aide Gushes As Ebonyi Pays April Salaries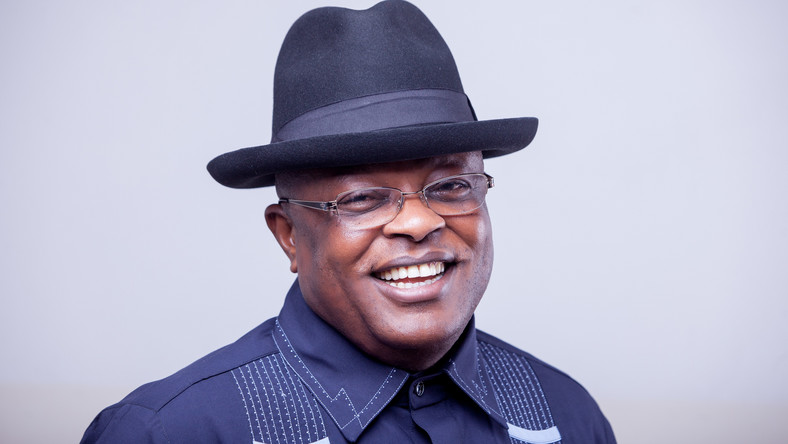 Two days into the new month, Governor Dave Umahi of Ebonyi State has authorized the payment of the April salaries of civil servants and political office holders, his Technical Assistant, Lady Monica Ada Eze has said.
Eze in a statement made available to newsmen in Abakaliki, the state capital said "that the thoughtful act of the governor will surely enable beneficiaries to survive the lockdown effects of the COVID 19 Pandemic in the State.
Monica postulated that this intervention by Governor Umahi coming at a period when most State Governors are finding it difficult to pay their January Salaries to their workers simply positions Governor Umahi ahead of his pearls in terms of tackling and handling of the welfare issues affecting their people.
"To ensure complete compliance to the State Government directives and policies of locking out the dreaded virus from the State the Governor directed all the Executive Assistants (EAs), Senior Technical Assistants (STAs) and all the Technical Assistants (TAs) numbering over two thousands to join hands with the relevant organs of the COVID 19 committees in the State to tour all the markets and worship centres in the State to ensure total compliance.
She appealed to citizens and residents of the state to comply with government's directive to observe social distancing, frequent washing of hands and regular use of hand sanitizers. Lady Monica further appealed to the people to report to a nearby hospital when they feel unwell.
The Governor's TA on Media expressed sincere appreciation to The Nigeria Centre for Disease Control (NCDC) for including Ebonyi State among the new States to be assisted with Testing facilities. Other States Capitals in this category include Kano, Sokoto, Maiduguri, Kaduna, Jos, P/Harcourt, Abakaliki.
"Once this is done it will go a long way to help the State Government to keep in check the effect of the virus in the State" she said.
In conclusion, Monica pleads with the rich men and women, Churches, non governmental organizations and Captains of Industries to emulate the likes of Dangote and others by coming to the aid of the State Government in her efforts to tackle the menace of this dreaded virus in the State by donating handsomely towards assisting the State in this regard .
While urging Ebonyians to stay safe, Monica counselled the good people of the state to remain ceaseless in prayers, assuring that the war against the pandemic Will be won.