Alex Iwobi @ 24: Following Family Footstep To Glory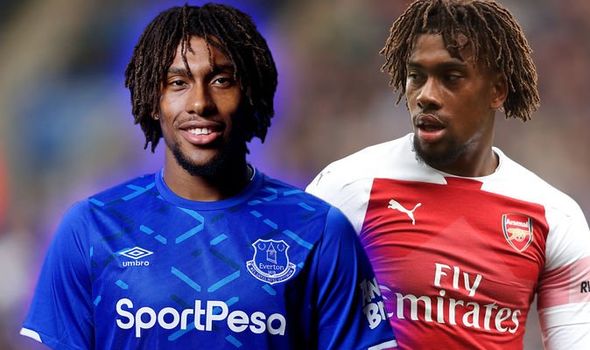 By Chuks Ekpeneru
It would have been out of place for Alexander Chuka Iwobi not to have identified his maternal uncle and football legend, Austine Jay-Jay Okocha as his role model.
"I can never get tired of people comparing us. I see my uncle as an idol, someone I have always looked up to as a footballer. I still have a long way to go, maybe one day; I can be on his level or greater," he said of Okocha.
Iwobi's mother is Okocha's sister with common ancestry to Delta State, Nigeria.
His father, Barrister Chuka Iwobi was also a footballer but reportedly dropped the game to study law in order to take care of his family.
Iwobi was born May 3, 1996, in Lagos but at the age of two, moved with his parents to Turkey where the family relocated to after Okocha signed for the Turkish club side Fenabache.
The family and the young Alex also moved with Okocha when he relocated to England to play for Bolton and the young boy was raised in London's Eastside close to Bolton Wanderers.
At the age of eight, reportedly with the influence of Okocha he was signed into Arsenal and developed through the academy into the senior team.
He almost got released by the club when he was 14 and again when he clocked 16. However, persistence and tutoring by Okocha and Nwankwo Kanu helped as they helped him to gain more confidence on the pitch.
The Nigerian professional footballer operates as a forward for Everton in the English Premier League as well as the Super Eagles, the Nigeria national team.
He made 149 appearances and scoring 15 goals, and winning the FA Cup in 2017 during his time at the Emirates.
Iwobi started as a youth international for England, and won the 2011 Victory Shield with the team.
He, however, subsequently switched allegiance to his native Nigeria at the senior level. He made his senior debut for the Super Eagles on 8 October 2015, replacing Ahmed Musa in the 57th minute of a 2–0 friendly defeat to DR Congo in Visé, Belgium.
He is one of the key players in the Super Eagles and contributed significantly in Nigeria's campaign in the 2019 African Cup of Nations, where the country won the bronze medal.
Hopefully, Alex has several more years to build a beautiful career while hoping to carve a name like his uncle, whose artistry with the ball made it that his name had to be re-enacted as Jay-Jay.