COVID-19 Quiets The Melody In Shade Diya's Voice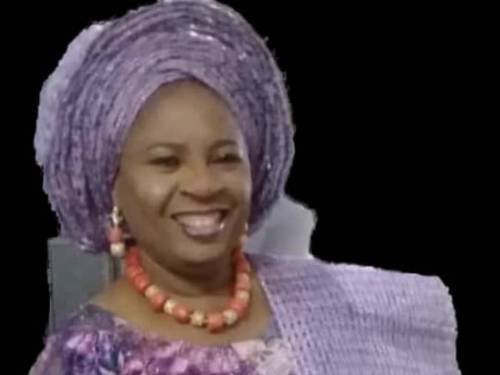 By Augustine Adah
Mrs. Folashade Diya, the junior wife of General Dipo Diya would be remembered for the radiance and gaiety she brought to all those around her. That glow was especially communicated through the melodious rendition of songs and hymns in and out of church.
Folashade who died five days to her 66th birthday reportedly died of COVID-19, a development that has made her family including the former number two citizen, to now resort to isolation.
Folashade and the senior mate, Josephine would be remembered for their unique social outings that bespoke the unique unity of the polygamous relationship in their marriage to General Diya.
Their coming out together on social outings was a strange phenomenon in many polygamous marriages.
The late Folashade was a passionate chorister at United African Methodist (Evangelical) Church, Abule Ijesha, Yaba, Lagos.
She was known for her melodious voice which she used in the service of God Almighty.
Her commitment to the service of God was seen in her humble disposition in relating closely with both the high and the lowly in the society even when the husband was the country's number two citizen.
In condoling the Diya family, President Muhammadu Buhari described the late wife as a devout Christian.
The President's Special Adviser on Media, Femi Adesina said, ""President Muhammadu Buhari commiserates with former Chief of General Staff, Lt. Gen. Oladipo Diya, over the passing of his wife, Chief Deborah Folashade Diya, praying that the Almighty God will comfort the family," Mr Adesina wrote.
"The President joins family members, friends and associates of Chief Folashade Diya, particularly members of the United African Methodist (Evangelical) Church, in mourning the devout Christian, who dedicated her time on earth to serving God, and working for the good of others".
The President prays that the soul of the departed will find rest in God after serving Him during her life time.
Though the family source did not disclose the exact illness that terminated the life of the late Diya, GreenWhiteGreen gathered that her death was related to the COVID-19 pandemic as a result of which members of the family are now in isolation.