'Nigerians Lucky To Have Buhari'- Adesina Under Fire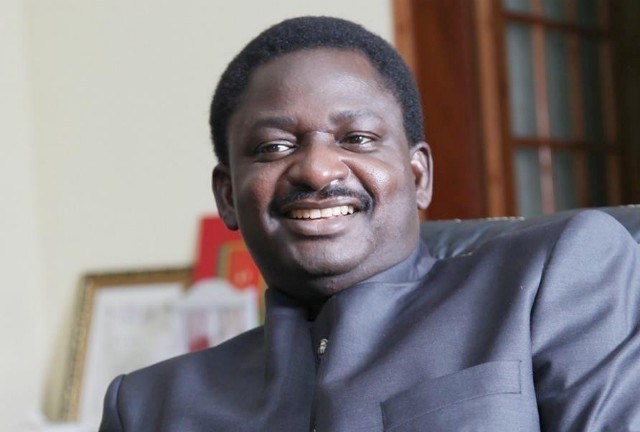 By Ayodele Oluwafemi
The Special Adviser to President Muhammadu Buhari to Media and Publicity, Femi Adesina has again come under attack over his comments that Nigerians are lucky to have Buhari as their president.
Adesina, on Tuesday, took to his Twitter handle to show his unflinching loyalty for Buhari, saying he owes nobody apology for being a 'Buharist'.
Edo 2020: Why Ize-Iyamu Was Chosen To Fight Obaseki
Read Also: Cynthia Morgan Lied, Nigerians Want Her Head
He tweeted, "A quote from mischief-makers is making the rounds, ascribed to me. I just dey laugh. I am a Buharist any day, no apologies, and I believe the President is leading the country well. In fact, we are lucky to have him at a time like this. All attempts to demonize me will fail."
Adesina's remark was aimed at his critics who hit at him over his previous assertions against the newly appointed Chief of Staff, Prof. Ibrahim Gambari when he was editor of the Sun Newspaper.
He had taken a position against Gambari over his support for the trial and execution of Ken Saro-Wiwa during the regime of former military dictator, Sani Abacha.
This is not the first time, Adesina will come under fire on the microblogging platform, Twitter, in recent days.
Not too long ago he was the object of criticism over his dismissive comments when asked why the president had refused to hold media chats to address Nigerians on the COVID-19 update.
GWG gathered the following Nigerians from twitter.
x@MisterAniekan tweeted: "Dear Mr Femi Adesina, when it comes to POVERTY, NIGERIA is the Oga of them all. I believe you are lucky to have him because ur life don CHANGE. Not NIGERIANS. Please speak for yourself. Leave us out biko."
@Tutsy22 tweeted: "Femi Adesina the Special Adviser, Media and Publicity to President Muhammadu Buhari has reacted to the current situation happening in Nigeria, claims that Nigeria may break down if action is not taken.
Moi: Gambari has removed his name in WhatsApp group."
@Ekenpresh tweeted: "Mr Femi Adesina said Nigerians are lucky to have Buhari at a time like this, but Google said we aren't lucky at all because Buhari has made Nigeria the headquarter for extreme poverty.
Which country is the World headquarter for extreme poverty?"
@ChNnadozie tweeted: "Mr Femi, it is insulting to say Nigerians are lucky to have a president that has been a complete failure and whose cardinal objective is the prosecution of northern hegemony. I give up on you! A day of reckoning awaits all of you working for Buhari and deceiving Nigerians."
@Akinlawon47 tweeted: "You can't speak for the citizens, perhaps yourself alone. Doubt anyone outside the largesse of this govt will agree with you. Do a poll if you think youre in a team taking this country anywhere."
@Victoregbo tweeted: "There's no problem being a buharist for eternity, but to say that the President is leading the country well is a clear case of someone speaking from his stomach."
@Ovigho tweeted: "Buharists represent the worst aspects of Nigerian citizenry: satisfaction with mediocrity, intolerance of criticism, disdain for critical thought, hypocrisy in partisanship, personality cultism, and shameless unbriddled sycophancy."
@toks171 tweeted: "Arson, banditry, bullion vans, BH, debt, hunger, kidnappings, SARS, recession, cash palliatives, human rights abuses, deradicalization, electoral violence, judgment influencers, lopsided appointments, herdsmen, genocide, IDPs, EFCC, unemployment. Ain't we lucky🙂?"