Buhari's Aide Who Called Senator Thief Faces Court Action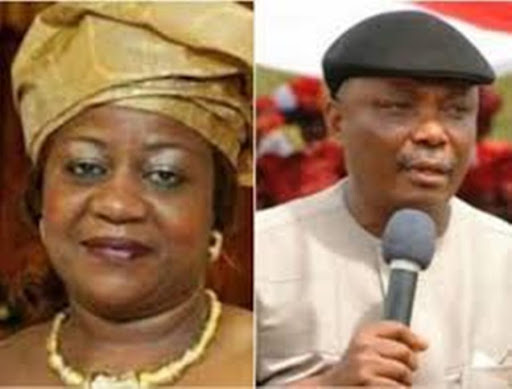 By GWG Staff
Senior Special Assistant on Social Media to the President, Lauretta Onochie has been taken to task over a Facebook post where she dubbed Senator Peter Nwaoboshi as an ordinary thief.
Senator Nwaoboshi, PDP, Delta North writing through his lawyers said that Ms. Onochie's lengthy commentary on her facebook page where she accused the second term chairman of the Senate Committee on Niger Delta of being jittery over the forensic audit into the affairs of the commission.
In the post on Tuesday, June 9, 2020, with the title, THE CHICKEN COMES HOME TO ROOST, Ms. Onochie had written thus:
"I was at an event in his home town where he spoke in our Anioma language, declaring himself a thief. I am an Ada Anioma. I was raised in Anioma land. We do not take what belongs to others, let along pride ourselves in being thieves."
She went on to detail companies and projects she alleged Nwaoboshi used to corner billions of naira of NDDC projects while serving as NDDC chairman.
"But we elected him to be our representative. Didn't we? In 2023, he would be our deputy governor, had President Buhari not ordered a Forensic Audit to clean up the NDDC.
"All these talks about Lauretta Onochie is not dishing out cash is because I'm not a thief. You should be proud of me. I am proud of me.
"All these talks about Peter Nwaoboshi being a nice man for stealing your billions and giving you pittance, the chicken has come home to roost," she submitted
Citing an alleged contract for the supply of furniture in 2016, she said:
"The contract sum was for 3.6 billion naira. The revelations in the award of the said contract are mind boggling, disturning and appalling, as all eleven companies/business names which were awarded the contract are owned by or traceale to one and the same person being Sen. Peter Nwaoboshi, but carrying on business under different names."
Affirming severe damage and injury to his reputation, Senator Nwaoboshi writing through his lawyers, Daniel Bwala has asked for a complete retraction and apology with the threat of pursing legal redress.
"Consequent upon the above, our client demands that you public/post a retraction on all your social media platforms and tender an unreserved apology to him within Forty-Eight (48) hours from the date of delivery of this letter.
"TAKE NOTE that if you fail to comply with the demands as stated above, we have our client's instruction to take legal action against you without further recourse to you."