Obaseki Bending Towards Boycott Of APC Screening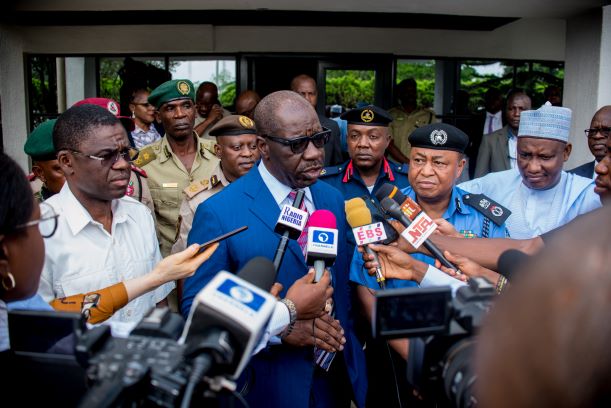 By Emmanuel Aziken
The Godwin Obaseki camp in the All Progressives Congress, APC was on Wednesday morning heading towards a boycott of the scheduled screening of the party's aspirants for the Edo State governorship election.
The envisaged boycott is coming against the background of apprehension arising from issues concerning the governor's educational qualifications. Sources in the camp on Wednesday, nevertheless dismissed the contentions saying it was not perturbed by the viral reports concerning the governor's credentials.
"He who accuses must bring proof," a senior associate of the governor told GWG on Tuesday morning.
"Has the University of Ibadan said that the governor did not attend the school? The governor delivered the Distinguished Alumni lecture in 2018, so can you say that such a person did not attend the school?"
Taken up on the variances and discrepancies in the certificate produced by the governor and the speculations about it being forged, the associate said that it is for the accuser to produce the evidence.
"You cannot ask me that, it is for those who accusing to subpoena the university to determine whether it issued the certificate or not."
The associate was also dismissive of issues raised on the governor's entry qualifications into the university saying that no one could take away the right of the university in determining its admission requirements.
"My friend, you cannot tell me that the entry requirements into a university are fixed. Like here in the University of Benin it may be possible to enter the university with a pass in Mathematics whereas for other courses it is not possible."
Asked on the governor's preparation for the screening scheduled for Wednesday and Thursday, the close associate of the governor said:
"You know that there is a restraining order on the processes leading to the conduct of the primary. So any activity concerning the primary is supposed to be suspended and the governor is not expected to lend himself to illegality."
"If the screening progresses it will delegitimise the process and that will give opportunity to the PDP or any other party to plead justifiable cause," the associate said.
The associate who spoke on condition of anonymity said that he, however, would not predict the governor's next course of action as the governor is presently in Abuja.