Why Obaseki Was Disqualified – Oshiomhole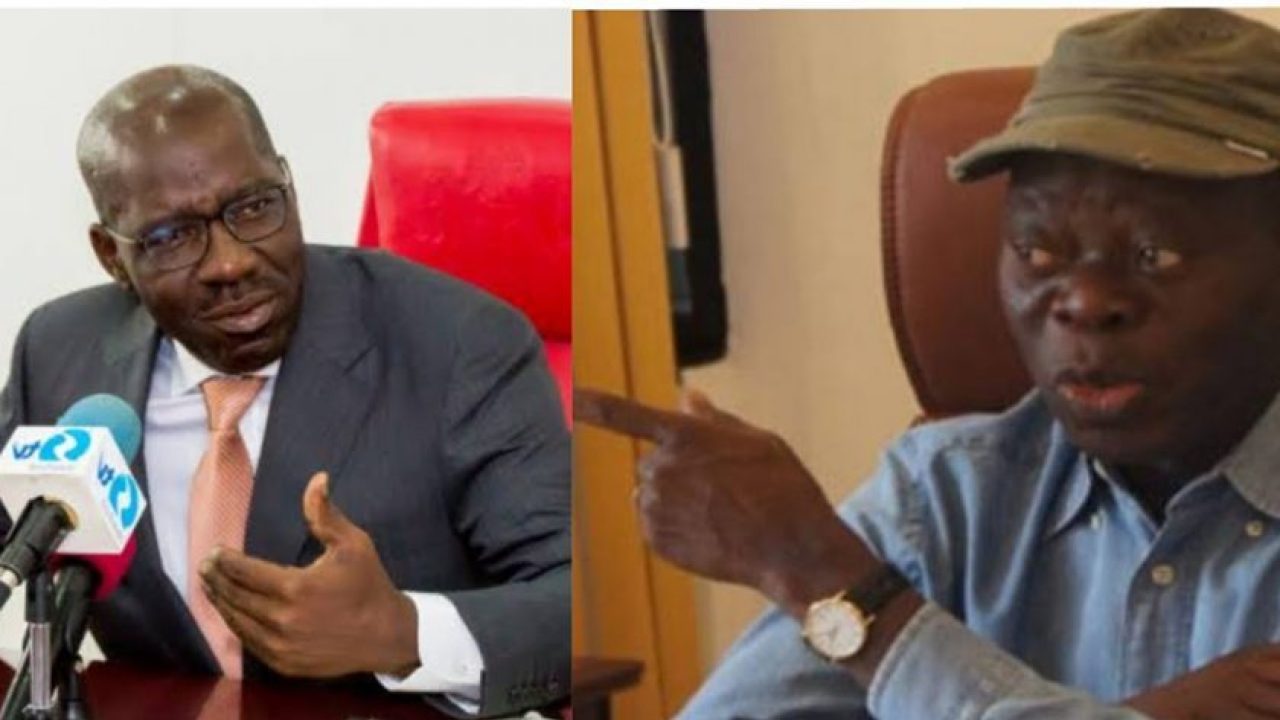 By Ayodele Oluwafemi
The National Chairman of the All Progressive Congress, APC, Adams Oshiomhole, on Friday, asked Governor Godwin Obaseki and others disqualified by the screening panel to approach the appeals committee if they believe they were unjustifiably removed from the contest for the party's ticket for the Edo State governorship election.
Oshiomhole while justifying the screening also dismissed insinuations that it was wrong for the party to screen the governor after fielding him as a candidate four years ago.
GWG reported that the screening committee led by Prof. Jonathan Ayuba, on Friday, in its report, disqualified Edo State Governor, Godwin Obaseki, Engr. Chris Ogiemwonyi and Hon. Matthew Iduoriyekemwen from the party primary election slated for June 22th.
Obaseki, in a statement, vowed not to appeal the report of the screening committee, saying that the committee is "unjust" while urging his supporters to remain calm and await the next line of action.
Reacting to the development late on Friday, Oshiomhole insisted that he could not have interfered with the report of the screening committee, noting that the report is subject to appeal.
"The report is subject to the appeal committee for anyone who chooses to appeal against the findings of the screening committee and the purpose of the screening is basically to say that nothing is taken for granted and until it goes through the appeal process, I, as the National Chairman cannot comment on it," Oshiomhole said.
On screening Obaseki for the same position after passing through the same screening in 2016, Oshiomhole noted that it was not expressly stated in the party's constitution that those who had been screened before for an elective position should not be screened again.
"I think you know much better than that this, if it is assumed that anybody who has been screened before or who has contested election before, should not come before screening again, it could have been so expressly stated in our constitution," he said.
The APC National Chairman further stated that the screening was carried out to avoid the fate that befell the party in the Bayelsa governorship election, where a serving senator who contested as the deputy governor was disqualified by the Supreme court due to discrepancies in names of the certificates tendered.
"I am sure you know that early this year or so, we had a sitting senator, who is still sitting as we speak and who contested as deputy governor in Bayelsa State and we all assumed that having passed screening and even being current senator (but) the Supreme Court found out that there were discrepancies that were not observed in the past and for which the man was disqualified and we lost the state."