Faction Wants Obaseki, Ojezua Expelled From APC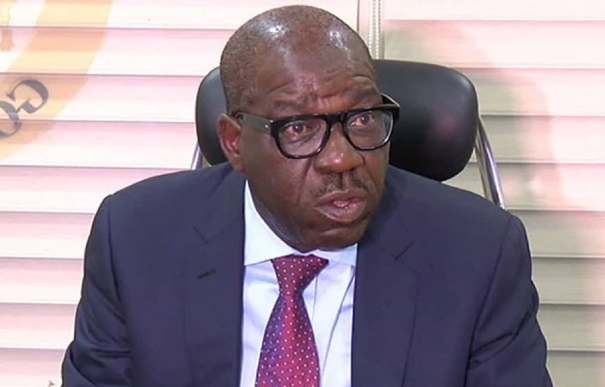 By Francis Ogbuagu
The faction of the All Progressives Congress (APC) in Edo State aligned to Comrade Adams Oshiomhole on Sunday recommended the expulsion of Governor Godwin Obaseki, for violating the provisions of the party constitution.
Also recommended for disciplinary action were the Chairman and Organising Secretary of the state chapter of the Obaseki aligned faction of the party, Mr. Anselm Ojezua and Dr. Aisosa Amadasun respectively.
Col. David Imuse, (rtd.) chairman of the Oshiomhole aligned faction at a press briefing on Sunday accused the trio had violated the party's constitution specifically, Article 21, sub-section D5 of the APC by launching several court cases against the party.
According to him, they (Obaseki, Ojezua, Amadasun and others) have shopped for injunctions and rulings to circumvent the processes of law and the provisions of the party in defiance of democratic norms.
"In the light of this, the SWC of the APC Edo State has recommended to the NWC that Governor Godwin Obaseki, Mr. Anselm Ojezua and Dr. Aisosa Amadasun should be expelled from the party for violating the provisions of our constitution", Imuse declared.
He stressed that after the bitter experience of losing the governorship of Bayelsa State in court after a well-deserved victory in the elections, it would be foolhardy to allow a candidate with dodgy and faulty academic credentials to fly the APC flag in the September 19 governorship election, noting that even the Holy Bible admonishes that affliction shall not arise a second time.
The acting Edo APC chairman commended the screening committee for the intelligence it brought to bear in it's assignment.
"The screening committee was thorough and transparent in assessing all the aspirants. They have gone on record as men of integrity who did not allow themselves to be swayed by pressure or patronage to abdicate the onerous responsibility of sifting the wheat from the chaff", Imuse said.