Obaseki: Can Bankers Not Be Trusted With Political Power?
The Case Study Of Obaseki, Udom, Shettima And Obiano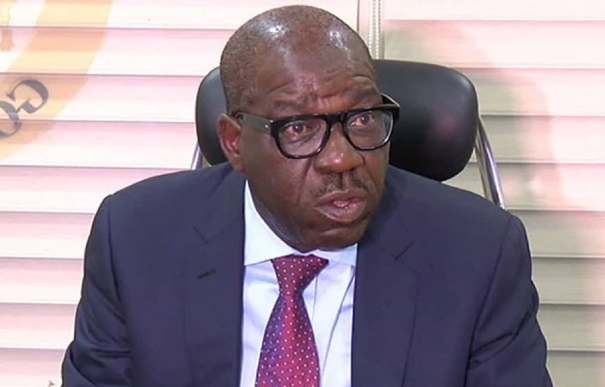 By Chuks Ekpeneru
Governor Godwin Obaseki of Edo State is currently fighting for his political future after falling out with his one-time political godfather and incumbent national chairman of the All Progressives Congress APC, Comrade Adams Oshiomole.
Obaseki founded Afrinvest West Africa Limited (formerly Securities Transactions & Trust Company Limited (SecTrust), which has grown to become one of the most reputable investment banking and management firms in Nigeria.
Associates say that he has brought the mien of a banker and accountant to governance which some say is responsible for his troubles with his estranged political leader, Comrade Oshiomhole.
Oshiomhole, however, is not the first governor to rebel against a political patron.
Some others include Governors Udom Emmanuel of Akwa Ibom, Willie Obiano of Anambra, former Governor Kashim Shettima of Borno State and Akinwunmi Ambode of Lagos.
A common thread running among all five recent examples is that they were all bankers or accountants before transforming into the political arena.
Senator Shettima was an Assistant General Manager in charge of Northeast operations at one of the country's leading banks before his appointment as Commissioner for Finance in Borno State in 2007.
After emerging as Governor in 2011, Shettima suffered many political altercations and some allege as humiliations in the hands of Sheriff before rebelling against Sheriff and demesifying Sheriff.
Sheriff was forced to leave the APC before sneaking back to the party and continues to play an insignificant role in the Borno State chapter of the party that was once defined by his image.
Willie Obiano had just retired from Fidelity Bank as an executive director and holidaying abroad when he was reportedly fetched by Governor Peter Obi and enthroned as governor of Anambra State on the platform of the All Progressives Grand Alliance (APGA) in the 2013 Governorship election.
On assumption of office, Obiano went on to exert his power, leading to defection of Obi to the Peoples Democratic Party (PDP).
Obiano against all odds defeated the candidate of Obi to win a second term. To spite Obi who was Vice-presidential running late to Atiku Abubakar in the 2019 elections, Obiano openly canvased for President Muhammadu Buhari.
In Akwa Ibom State, Chartered Accountant, Emmanuel Udom was in July 2013 appointed Secretary to the State Government. His appointment by Governor Godswill Akpabio ruffled feathers then, but Akpabio had his way.
Before then he served as an Executive Director in one of the country's leading banks prior to his appointment.
When Akpabio therefore installed Udom as Governor in 2015, it was expected that he would call the shots from behind. This he did for some time until allegedly upon pressures from Abuja Akpabio defected in 2018 and was vanquished by his political godson in the 2019 General Election.
Akinwunmi Ambode was not directly a banker but had risen to the position of Accountant-General of Lagos State and upon retirement was helped by the political leader of the state, Asiwaju Bola Tinubu to become governor in 2015.
However, for whatever reasons he fell out with Tinubu and the political leadership and fought a battle for self realization but lost out.
What could be the reason why these bankers turned politicians go against their godfathers? For many it could have been due to their inability to suffer the oppression of their political leaders.
Whereas they have acted as faithful account and fund managers, the matter of trusting bankers with political power is becoming an issue for Nigeria's classical politicians.
However, one example of a banker who did not express a mutter against his political leader as governor was Abdulfatah Ahmed who served for two terms as governor of Kwara State between 2011 and 2019 under the political tutelage of Senator Bukola Saraki.