Man U Player's Visit To TB Joshua Stirs Rumpus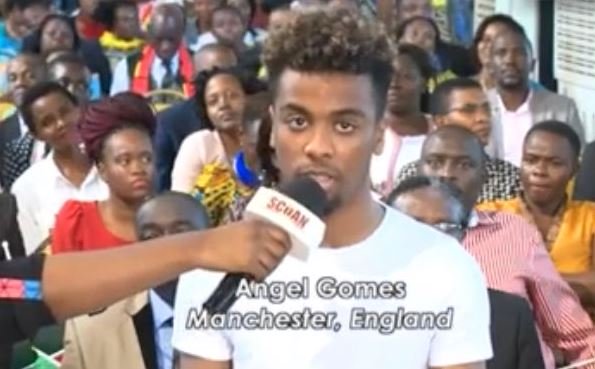 By Ayodele Oluwafemi
A trending video of Manchester United player, Angel Gomes, during a visit to T.B. Joshua's Synagogue Church of All Nations (SCOAN) has set the social media buzzing.
The now-viral video was a deliverance session of the church that took place in 2017 when the player said he came from Manchester to the Ikotun-based church in Lagos, to seek spiritual solution to the series of injuries that made him miss major international tournaments.
The player noted that his parents were fans of TB Joshua hence, he came to the prophet for healing.
In the old video, the cleric was seen rubbing the legs of the teenager, while shouting "receive it."
After the deliverance session, the player was given the microphone to narrate what he felt during the prayer of the cleric.
He said, "I just felt a little shock and I was surprised. I can't really describe how I felt. Just don't doubt what you feel on the inside."
In the video, the wonder kid said, before the congregation, "My name is Angel Gomes, I'm from Manchester. I'm sixteen. I play for the Manchester United Football Club. And I've been struggling really with injuries.
"I've been having injuries around my hip and groin which have been affecting me playing and also suffered ankle injury not long ago which kept me out for a long time.
"These injuries would come at hard times for me, times when I was having a breakthrough or times when I had to go to a tournament or playing games, these injuries would happen quite frequently.
"I play for Man United, I also represent England national team under-17 level as captain. I've known about the Synagogue Church of Nations for a long time.
"As my family follows the prophet, my parents are big fans. So we thought it would be a good time for me to come and be touched by the prophet."
See video:
"Gomes is the youngest player to represent Manchester United since Duncan Edwards in 1953, as well as the first player born in the 2000s to appear in the Premier League. He has captained England at under-16, under-17 and under-18 levels," his Wikipedia page reads.
Many Nigerians have reacted to the old video of the Manchester United wonder kid coming to Nigeria to visit the synagogue church at Ikotun.
Some section of Twitter users wondered if the deliverance will translate to quality performance for the player when the league resumes on June 17, following the COVID-19 disruptions.
Hilarious comments were also formulated from the video, as Nigerians called on players who are battling with injuries in leagues in Europe to visit the synagogue church in Ikotun, Lagos for their "deliverance."
GWG gathered the following tweets:
Send Us A Press Statement Advertise With Us Contact Us