Ondo Will Resist If Akeredolu Is Rigged Back – Dep Gov
Deputy Set For Defection On Monday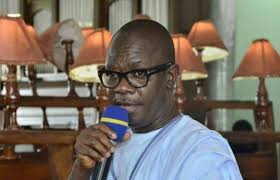 The Police in Ondo State was coming under focus on Sunday after policemen deployed to the Government House in Akure stopped the deputy governor of the state from leaving the premises after packing his personal belongings.
The deputy governor, Agboola Ajayi is set to leave the All Progressives Congress, APC for the Peoples Democratic Party, PDP on Monday.
After being detained for hours by police, Mr. Ajayi warned the police that the people would resist just as in 1983 any attempt to rig the election.
Ahead of his defection the deputy governor had on Saturday evening gone to pack his personal belongings from his office.
However, his attempt to leave was blocked for several hours. The arrival of the newly deployed commissioner of police, Mr. Bolaji Salami did not help matters as the commissioner reiterated the order that the deputy governor could not leave with his escort vehicle.
Mr. Salami's insistence was despite the claim by the deputy governor that he bought the vehicle himself.
Mr. Salami had told him that he had his letter (resignation from APC) and that he was defecting forcing the deputy governor to retort thus:
"Are you not a police officer, If I am leaving what is your concern, are you an APC chairman? Are you a PDP chairman?
"Why would police be used for God's sake? My brother you people cannot repeat what happened in Ondo State in 1983 again.
"It is unfortunate that they want to use the police to cause this. Ondo State will resist you."
Ajayi is expected to be received into the PDP on Monday by a high powered PDP delegation expected to be led by the national chairman of the PDP, Prince Uche Secondus.
He is expected to fly the PDP's governorship ticket.
Send Us A Press Statement Advertise With Us Contact Us