Tinubu's Man's Absence Raises Questions On Kwara APC Peace Parley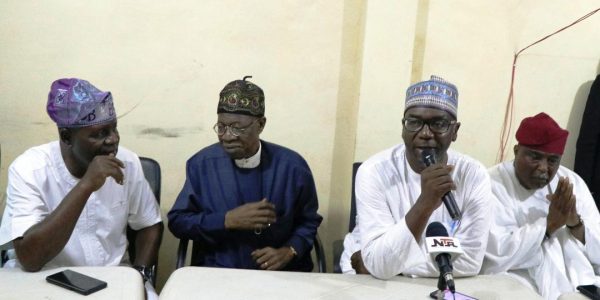 Governor Abdulrhaman Abdulrazaq and some leaders of the All Progressives Congress, APC have taken steps to bridge perceptions of a gulf between the party and the government in Kwara State.
At the centre of the reported discord is the claim that the governor is at war with the party chairman, Hon. Bashir Bolarinwa and that he is loyal to both the minister of information, Alhaji Lai Mohammed and national APC leader, Asiwaju Bola Tinubu.
Elements aligned to the governor have been reported in the past to create a faction loyal to Abdulrazaq and where not, by raising moves to remove Bolarinwa as state chairman.
Their efforts have meanwhile failed.
Last Thursday, some members of the state executive council met with the governor where at the end of the meeting they affirmed cordiality between both sides.
However, the notable absence of the chairman, Bolarinwa has helped to further drive claims of discord within the top hierarchy instead of dissipating it as was apparently intended by the meeting.
The meeting was chaired by the Secretary to the State Government Prof Mamman Saba Jibril who represented the governor.
The APC executive was led by the deputy chairman, Abdullahi Samari.
Speaking at the parley Samari while trying to dismiss claims of discord between the party and the government said that it boiled down to the failure of the party to render account of money supposedly delivered for campaigns.
"I want to say clearly that we in the party do not have any problem with the government or the Governor. And let no one deceive the public that this is about the government against the party or the party against the Governor. No.
"The problem is between us in the state executive council. It is not with the Governor or his government. We want transparency and accountability within the party. That is all," Samari said.
"As far as we are concerned, we couldn't have asked for a better government because the Governor has made a huge difference in every part of the state.
"So, the Governor has represented us well. He has been relating with us greatly. We were always consulted and called to make inputs in many of the things the government is doing, so we only need to support him."
Noting the governor's alleged support for probity, he said that the governor's only fault was in "him standing by us to call for accountability and transparency and that was after listening to all the sides from within the APC state executive council."
Among members of the state exco present at the parley were the State Secretary of the party Hon Mustapha Isowo; APC Senatorial Chairman (South) Hon Olayemi Olabanji; State Auditor Hon Femi Oladokun; State Youth Leader Hon Oyinloye Oyelere; APC Publicity Secretary Tajudeen Folarin Aro among others.