Buhari Backs Giadom Against Oshiomhole's Group
To Host Giadom Led NEC Meeting On Thursday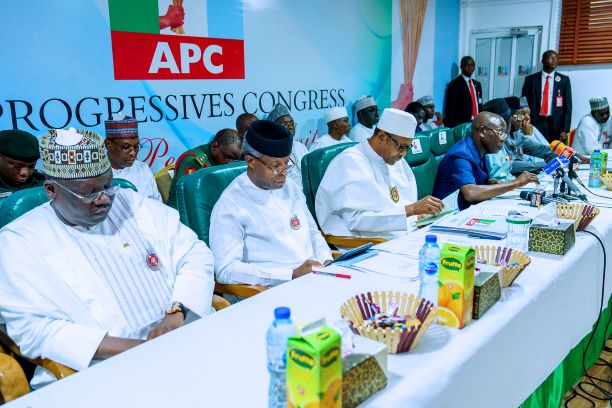 President Muhammadu Buhari has apparently thrown his support for the Victor Giadom tendency in the All Progressives Congress, APC following his approval to host a meeting of the National Executive Committee, NEC of the party convened by the faction.
Notice of the meeting emerged on Tuesday in Abuja.
However, the Hillard Etta faction was quick to dismiss the meeting saying that Giadom has no power to convene a NEC meeting.
Giadom is aligned against the Adams Oshiomhole tendency that is presently led by Etta, the national vice-chairman, South-South.
The NEC meeting it was learnt arose from the discussion between the APC Progressives Governors and the president on Monday.
The NEC meeting to be held at the Presidential Villa on Thursday will, however, accommodate only a handful as the others will be expected to join remotely according to sources privy to the development.
Giadom in a communiqué to NEC said he had following consultations with the president and other stakeholders convened a meeting of the NEC.
The message said:
"I, Chief Victor Giadom, having been duly authorized by Court Order to Act as National Chairman of our great party and to preside over all meetings of the NWC and NEC hereby and with the consent of the President Muhammadu Buhari, GCFR (who is the leader of our Party) reconvene the NEC meeting that was earlier billed to hold on the 17th of March, 2020, but was postponed. The reconvened meeting shall hold on Thursday, June 25th, 2020. Venue shall be the State House, Abuja."