Supporters Laud Buhari Over Dissolution Of APC NWC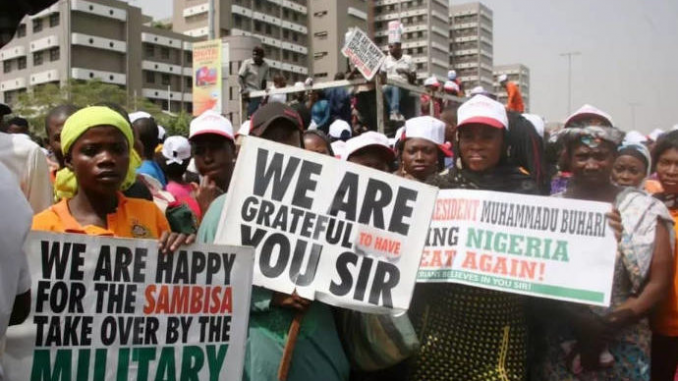 President Muhammadu Buhari is a firm, astute and sound leader. The leadership acumen he showed in resolving the issues in the All Progressives Congress (APC), and giving it a reasonable direction at a time of uncertainty, is quite commendable.
The Buhari Media Organisation (BMO) in a statement welcoming the President's recommendation to dissolve the party's National Working Committee (NWC), said that the President stepped in at the right and the perfect time to deliver a well-thought-out direction and strategy to give the party a much-needed reboot.
In the statement signed by its Chairman Niyi Akinsiju and Secretary Cassidy Madueke, BMO said the President took a firm and intellectually proper decision to participate in the NEC. "It was a decision backed by legality and sound-judgment which ultimately sought to set the party in the right direction.
"We urge all members of the party to harken to the advise and solemn recommendations of the President. Assuredly, if all can sheathe their swords as President Buhari has asked, and follow religiously the path set for the hosting of the Extra-ordinary Convention of the party, a renaissance of the party is at hand."
The group noted that Mai Mala Buni, the Governor of Yobe State is a dedicated and versatile party man, who would handle the job of the caretaker committee with the seriousness required of the office.
"The choice of Malam Buni is commendable. He has time after time shown himself to be a loyal party man, and fit to serve in this role.
"He was the party's National Secretary, just before he was elected Governor of Yobe State: a role he handled with a strong sense of duty and dedication.
"We ask that party members give support to the newly constituted Caretaker Committee to ensure the legacy of the party and the President is sustained, and in fact improved upon."
The group stated that the APC had won two consecutive Presidential elections that were given to them based on the delivery of their campaign promises and the track record of President Muhammadu Buhari.
"The party has done well. It has a record that it can boast of. It has delivered to Nigerians and these successes are there for everyone to see. Party members must not fritter these cherished and remarkable landmarks due to conflicts and clash of interests", the statement added.