Oshiomole's Humility: As We All Deceive Ourselves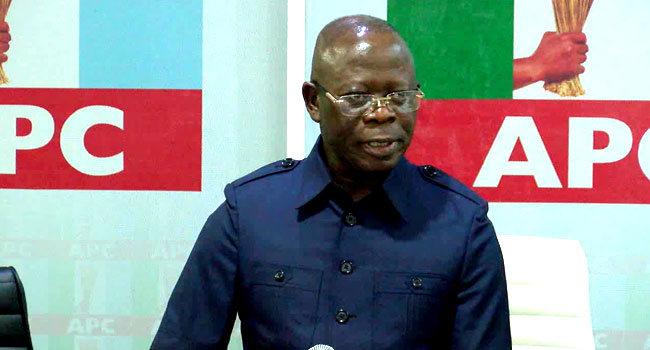 Francis Ilenloa Igberaese, Ph.D
I didn't have the opportunity to watch the full press briefing by the immediate former Chairman of APC, Adam Oshiomole. I only watched an excerpt of it on my WhatsApp and Facebook pages.
But I could imagine what he meant to say, or what he actually said that was never pronounced by him. I could understand his pains and the bitter pins that he had to swallow.
His supporters, who I envy for believing in drowning with the man who made them what they are (Professional Politicians at their prime ages), will be quick to say that he is already what he is; chairman or no chairman. Then, I asked one of them why he so much battled for the chairman as if his life depended on it.
Oftentimes, it is difficult defending the undefendable but as it is, Oshiomole's supporters, like their master, will always find words, even the words from the thinking only befitting primary school pupils.
All they are understandably waiting for now is the possible coming of Ize-Iyamu as governor, as if the Pastor himself is not aware that Oshiomole is his major political undoing; so that should he actually becomes governor, putting Oshiomole to where he belongs would be his priority.
Let me not assume anything anyway, because Oshiomole has reduced the Pastor's reputation and chances of winning elections. But I know that I was the first to predict an unresolvable dispute between Obaseki and Oshiomole early enough in 2016.
Back to the subject matter; did Oshiomole actually mean he is still loyal to President Buhari in all of this? Who would? That is just like what Ola Rotimi of blessed memory called "the friendship between the goat and the cocoyam" and the great writer had asked: "If the crocodile can eat its own eggs, what will it not do to the eggs of the lizard?" And I add; has Oshiomole not realized too late that the bird does not fly according to the width of the sky?
I heard him referring to himself as a member of APC. That was the same way he ignored his suspension. Isn't that a big lie, at least for now? Obaseki is obviously more sincere to himself by resigning from a party that didn't want him any longer.
I do not mean by Oshiomole but by the President himself, and that is self worth. Oshiomole should understand, or his think tank should know that the President had long decided that if Obaseki and Oshiomole were the problems, and since they could not settle themselves, both of them should be done away with for peace to reign in the party.
After all, the macro-stability of the party is worth the trade off of its micro benefits. That is to say that the President cares less about Edo. Didn't he win in 2019 even when he lost Edo? What now makes Edo a flag point when he doesn't really have anything at stake any longer?
The only APC state in the South-South? Story for the gods. If you don't me, I would ask you why didn't the NEC of the party invoke its power to intervene in Oshiomole's suspension, as they did in ratifying Ize-Iyamu?
Now, I hate it when someone refuses to see when he has become irrelevant. Oshiomole should know that the President had only tolerated him (Oshiomole) on the advice that he was needed (I mean his mouth) for the 2019 election.
That usefulness has long expired, especially when the "stock price" of APC has lost great value (depreciated) under a bad "Managing Director".
Well, Obaseki is still the governor even though APC no longer wants him. Who is Oshiomole now? His supporters would say a Leader, as if that is one of the offices he so much desires, as if Obaseki too is not also a Leader, as if I am not also a Leader.
Oshiomole should have tested strength with the President. We would have watched Part 3 of the whole episode. I wish then, that his Advisers had advised him like this from the beginning.
Dr. Francis Ilenloa Igberaese writes from Benin.