Shocking Reactions On Wike's Love Note To Buhari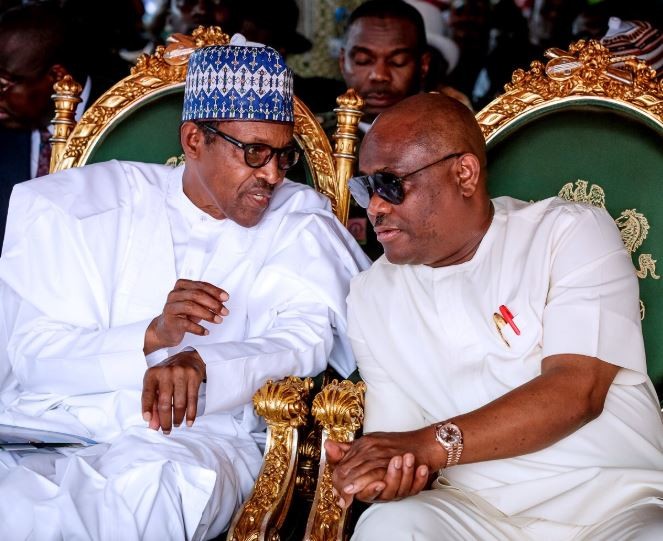 By GWG Staff
Nigerians have taken to social media to give diverse views on the new chummy relationship between President Muhammadu Buhari and Governor Nyesom Wike of Rivers State.
That relationship was redefined by the decision of President Buhari to refund the N78.9 billion supposedly expended by the Rivers State Government over the years in the construction of Federal Government projects in the state.
The redefinition of that relationship came to fore after Governor Wike took a full page in The Nation on Monday to laud the president for being an exceptional leader for his action in refunding the money that had been unpaid over the years stretching to the Goodluck Jonathan regime.
"Mr. President has by this remarkable and heart-warming gesture, shown not only your love for the Government and people of Rivers State, but also demonstrated expressively that you are indeed, a President for every state of the Federation," Wike wrote in The Nation newspaper advertisement.
The governor had in the recent past accused the All Progressives Congress, APC administration of marshaling policies directed at punishing the people of Rivers State. Not long ago, the governor had also accused the Federal Government of deliberately targeting the people of the state to exposure to COVID-19.
However, the governor was on a completely different wavelength following the receipt of the outstanding funds even going in his charm offensive to beg the president to pay a courtesy visit to Rivers State.
The development has enlivened the social media with Nigerians citing it as another reason why not to trust politicians.
A number of social media commentators, however, saw in the governor's action a sign of humility and sincerity while some others lauded President Buhari for not following partisan considerations in responding to the release of the funds.
However, the open commendation is not the first time that Wike has thrown away partisan considerations to identify with Buhari.
When the president returned to the country after his prolonged medical vacation in 2018, Wike hurried to partake in the reception in Abuja.
And again when the president won the Supreme Court decision on his election in 2019, the governor roughened emotions in his party when he openly congratulated him.
GWG gathered some of the tweets that are trending following the latest development: