Deputy Unmoved As Pressure Mounts On Sick Ondo Gov To Handover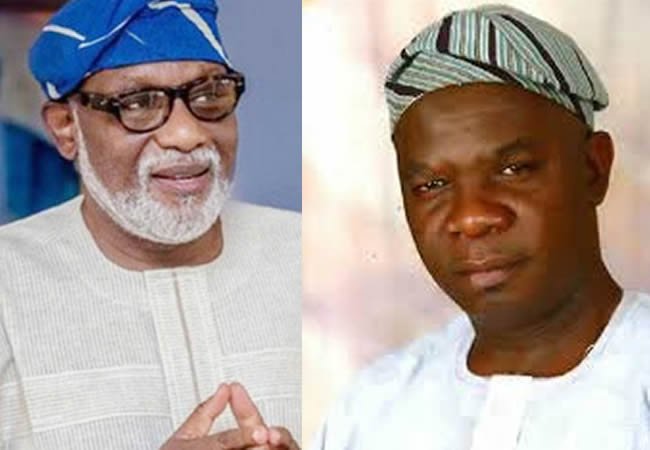 By Chuks Ekpeneru
Despite their differences, embattled Deputy Governor of Ondo State, Agboola Ajayi has prayed for the quick recovery of the state governor, Rotimi Akeredolu, who has tested positive for COVID-19.
Ajayi said he received the news of the governor's COVID-19 infection with "great empathy and compassion."
The Deputy Governor wished Akeredolu quickest recovery and general wellbeing.
"Health is not something to play politics with and as such craves the cooperation of all at this period," he said.
"The Governor will overcome this to continue to pilot the affairs of the state for the progress and prosperity of all."
Ajayi's message to his estranged boss came at a time his followers asked Governor Akeredolu to hand over to him while in self-isolation after testing positive to Coronavirus
Fola Gold, who was said to be an aide of the deputy governor, shared a post which reads "In the absence of the governor, we need the deputy governor of Ondo State to act, till Mr. Governor is out of self-isolation. Congratulations to the acting governor of Ondo state Hon. Agboola Ajayi"
One of the messages from Ajayi's supporters also read "Comrades, let us use this opportunity to wish our Governor a quick recovery. I hope Mr. Governor has officially handed over to his Deputy? There should be no lacuna in governance. The ship of State must sail on".
Ajayi aides cited the governors of Kaduna and Abia State as handing over to their deputies when they went into isolation after he testing positive to COVID-19.
Nonetheless, while Akeredolu looks after himself, the Deputy-Governor is moving ahead to woo other aspirants on the platform of the Peoples Democratic Party (PDP) to enable him have a smooth sail in grabbing the party's ticket.
Akeredolu on the other hand has advanced the conflict between himself and his deputy by sacking most of his deputy's aides.
Within the APC, the pressure on the governor may have reduced with the ouster of former National Chairman, Adams Oshiomole.