Funke Akindele House Gift To Old Actor Praised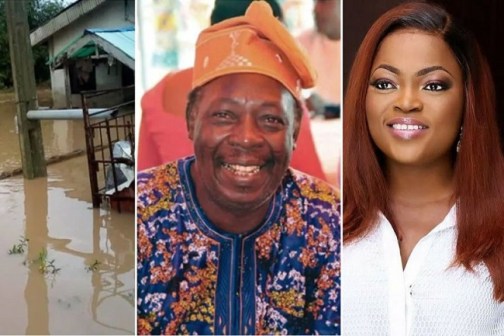 By Ayodele Oluwafemi
Popular Nigerian Actor, Ajirebi Kayode Olasehinde popularly known as Pa James has been gifted a new apartment by Nollywood actress, Funke Akindele, after flood took over his house located at Agbado Oke-Odo axis of Lagos State.
Pa James, in recent times, has been battling flood issues in his apartment and the actor had cried for help on several occasions.
On Tuesday, another Nollywood actor, Kunle Afod, posted a picture of Pa James' house submerged in water, with the caption "Let's come together to support Pa James. This is his house overtaken by flood. God will help you as you lend your helping hand."
The development drew public sympathy from Nigerians, especially Nollywood actors and actresses, on the current situation of the comical actor.
Amidst the public awareness of Pa James' situation, it was reported that Funke Akindele had gifted the actor a new apartment.
The announcement of the new apartment was made by another Nollywood actress, Kemi Korede, who took to her Instagram handle to post the picture of Funke Akindele, with a caption appreciating her.
She wrote, "On behalf of PA JAMES, I Want to say Big thank you to @funkejenifaakindele for the new apartment given to him by you. God bless you so much for your good heart. Your type is so rare..you are a gem. Almighty God will continue to make way for you where dier seems to be no way."