Magu Seeks Bail As Police Details Are Withdrawn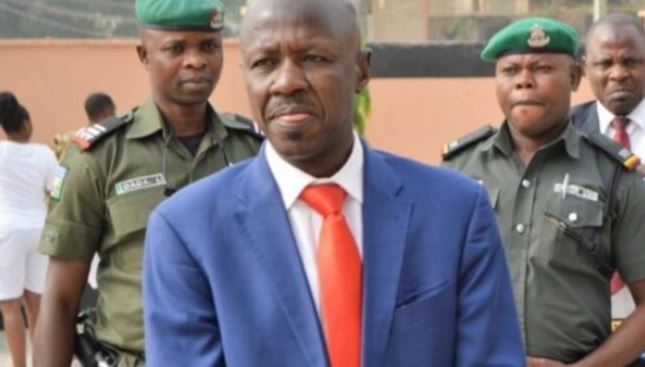 Mr. Ibrahim Magu's fortunes slipped further on Friday after his police details were withdrawn and the likelihood of the suspended chairman of the Economic and Financial Crimes Commission, EFCC spending the weekend in detention seemed likely.
Mr. Magu has meanwhile applied to the Inspector General of Police for his bail.
GWG learnt that Mr. Magu's police details and security men all of whom were from the police have been withdrawn from the commission and asked to return to the police for regular police duties.
The move is believed to be another signal drawing an end to the end of Mr. Magu in the EFCC.
Meanwhile, it was learnt that his lawyers have asked the Inspector General of Police to grant bail to the embattled former chairman of the EFCC.
Magu was picked up on Monday and has spent four nights till Friday in detention. The prospects of him spending the weekend in detention looked likely even if GWG has not been able to confirm if the presidential panel investigating him would sit during the weekend.
Meanwhile, a lawyer Mr. Olayinka Daniels has called on the authorities to follow the rule of law in holding Mr. Magu in custody.
Daniels in an interview said that it was ironic that the violations of bail which the EFCC was reputable for has now come to haunt the former head of the commission.
"You cannot detain somebody beyond the stipulation of the time provided for in the law and what they ought to do is to take him to court to get a legal basis for the continued detention," Daniels said on TVC.
Noting the irony that of the fact that the EFCC under Magu was disrespectful of the law on granting bail, the lawyer said:
"Tomorrow when it gets to your turn people will speak for you. They do it a lot in the EFCC (disregard for bail)."