Why Buhari's 'Girl' Joi, Hit Akpabio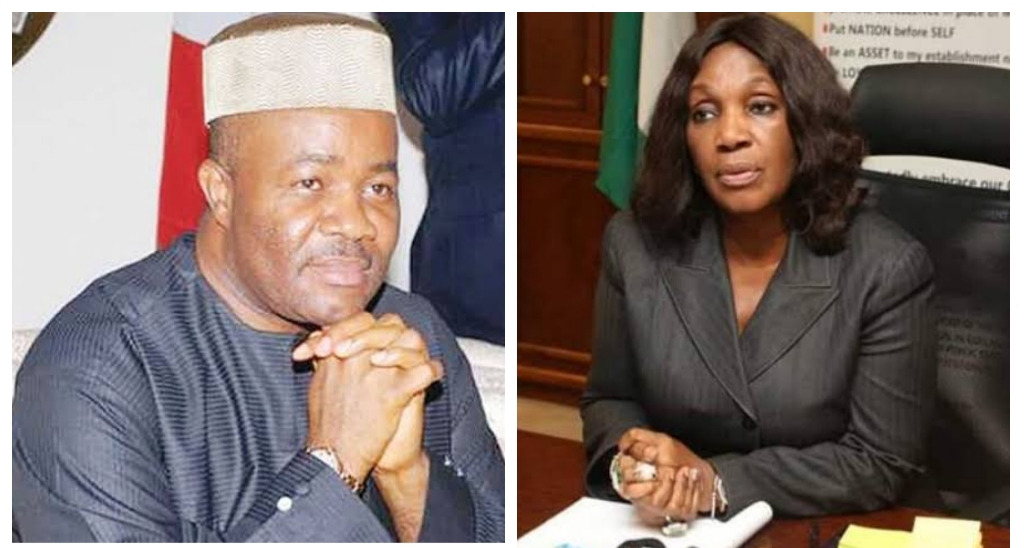 By GWG Staff
Ms Joi Nunieh widely regarded as President Muhammadu Buhari's 'girl' in political circles on account of her close relationship with the president's family has come out hard against the minister of the Niger Delta Affairs, Senator Godswill Akpabio, accusing him of several indiscretions.
Ms Nunieh who has a long standing relationship with the president's family dating back to his days in the All Nigeria Peoples Party, ANPP is close to both the president and his wife, Aisha.
Ms. Nunieh was one of those nominated to the inchoate board of the Niger Delta Development Commission, NDDC last year. She was nominated to represent her native Rivers State, but she refused to come for the Senate screening after she was also appointed managing director of the same NDDC in the Interim Management Committee, IMC.
Her decision to turn against the board and the Senate was seen at that time by power players in Abuja as indicative of the fact that the IMC arrangement would suppress the NDDC board.
However, her appointment as the managing director in the IMC was swallowed by allegations of indiscretions on her part.
It was at that time believed that her removal was championed by Senator Akpabio.
The National Assembly investigations of the IMC on Friday opened way for her to spill the beans on Akpbabio.
She said:
"He told me to take an oath. Though he denied that, he told me, three times until we had a reconciliation at the Villa in the office of Mr. Abba who is the S.A. to the President on Domestics.
"In that meeting was Alhaji Maikano and he said the only condition is when I take the oath and I didn't take the oath and will never take it.
"After that, he said, he was going to remove me and he started the campaign of calumny against me. I didn't even answer him because the fact will speak for itself…
"I refuse to go with him to the FEC meeting to deceive Mr. President and the reason is because the law says if I contravene a section of the Procurement Act, it's five years imprisonment without an option of fine.
"So if I had gone with him to deceive Mr. President I would have been in trouble because they said it's 2020 budget, but Akpabio went and got approval when the budget was not ready….
"One of the issues raised against me was that I awarded contracts without them knowing about it. Am sure that is what they told you people yesterday.
"Nobody makes payments in NDDC without Godswill Akpabio's consent. When we first came to NDDC on the day of inauguration we were going to the camp, he told me Madam MD, if you don't do what I say, the same pen I used in signing your letter; that is the same pen I will use in removing you….
"He said the first thing I should do, when I get to Port Harcourt, is to change dollars in NDDC account into Naira. I told him, I am scared to do that. He claimed that I have poverty mentality that I was afraid of money. All of you knew he accused me on that, saying I am afraid to spend money.
"After two days, he came to Port Harcourt and told (me) what I should do is to change dollars and I said I cannot just do that. He said I (should) remove Mr. Kaltungo from Legal send him on compulsory retirement and he said we cannot have a northerner as head of the Legal Unit.
"I said, I cannot do that. I do not have the powers because I am just an IMC. It's a criminal offence, and against public service rules for me to do that. He said I should repost all other directors that refused to take his instruction during my predecessor's time, that is the person who was there before I came….
"So, he came and asked me to draft a letter on my letterhead implicating Senator Peter Nwaoboshi for collecting contracts in NDDC. I told him that I will not do that I am a lawyer and who alleges should prove. He said Senator Nwaoboshi is giving us trouble and besides, he didn't recognize the IMC. I said I will not do that letter. He said I was ungrateful and I refused to do that letter.
…now did a letter which I want to tender at the Ad-hoc Committee before I came late alleging that Senator Nwaoboshi had contracts and I said if I signed, any document from me seen by Mr. President, he will believe….
"He also said, I should implicate the Chairman, House Committee on NDDC because the Chairman of House Committee has gone to Ondo State to hold a meeting to plan against him. I said, I don't know that one, I have never seen him. "But for Senator Nwaoboshi, he was my classmate at the Law school and we were called to bar the same day, however, I didn't see him since we were called to bar, I didn't really remember him and that was about thirty years ago.
"When we finished that, Akpabio said I should bring all things and start pay, I said, I cannot pay for water hyacinths because the budget for water hyacinths was about 3 to 5 billion I cannot remember exactly the figure now.
"The NDDC before I came has overstretched for about N50 billion for hyacinths and so the National Assembly has written us that we should not pay for anything like that. Guess what, Akpabio never signs any documents. He will always refuse to sign, but tell you to go and commit fraud.
"For instance, he told me to go and raise a memo for an emergency contract for flood victims…."