Obaseki Drags Oshiomhole's Wife Into The Ring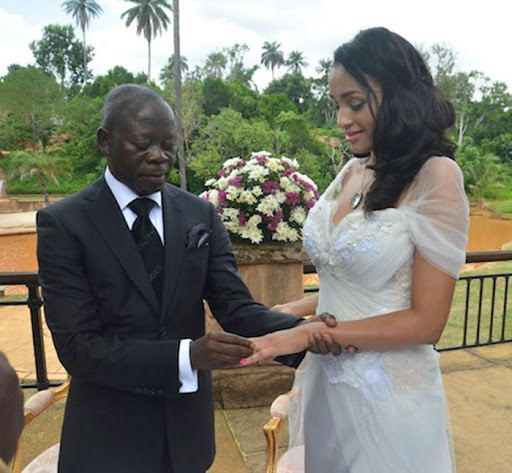 By Chuks Ekpeneru
As the Edo State Gubernatorial election approaches, Governor Godwin Obaseki and his former godfather, Comrade Adams Oshiomhole have intensified the battle that will eventually see one of them suffer premature political retirement.
As Oshiomole was apologizing to Edo citizens for supporting the present governor in 2016, he let the people know that the present administration is reaching out more to outsiders more than people in the state.
According to him, "During his election, there were printers from Edo State who printed his posters. Upon being elected, even menu cards are printed in Port Harcourt."
The former APC national chairman added, "Suddenly, there are no MCs (Masters of Ceremony) in Edo State. MCs are imported from neighbouring states. Lord, he who forgot us, our time is coming. We shall speak to you, God in Heaven.
This is besides earlier accusations that Obaseki has fake results.
Hitting back, the Obaseki camp said Oshiomole gave the contract for the equipment of the Edo Specialist Hospital to his girlfriend who allegedly fixed the money in a bank account to yield interest.
"The answer is clear and it is that Oshiomhole had given the contract to equip the hospital to his girlfriend and instead of buying the hospital equipment after she was mobilised with 75 percent upfront payment, she lodged the money in her fixed deposit account to earn interest and unfortunately the Naira was devalued and she was not able to purchase the materials afterwards, leaving the hospital empty," Obaseki said through his aide, Crusoe Osagie.
"Oshiomhole actually had to reach out to hospital equipment supplier in Lagos to loan him some equipment just for the commissioning and the equipment was returned to the owner after the commissioning ceremony.
The issue of Central Hospital is very sensitive to people of Edo State who feel it was an avenue to loot the state.
But more damaging is allegation that the contract was given to a girlfriend. This may have far reaching consequences for Oshiomole's marriage to Iara, the former beauty queen.
If true, at the time the hospital contract was given out the pair had apparently not married but were already in a relationship.
The hit from Obaseki was despite the fact that he was Oshiomhole's best man during the wedding of the former governor to the Cape Verdean former beauty queen.
Ms Iara Oshiomhole has largely not been seen around her husband and may have been based abroad, but whatever Obaseki has alleged would definitely not be welcome news to her.
Bringing her man's alleged infidelity if true into the contest is another dimension to the mutual war of destruction between Obaseki and Oshiomhole.