Actress, Osifo Boosts Online Learning At Orphanage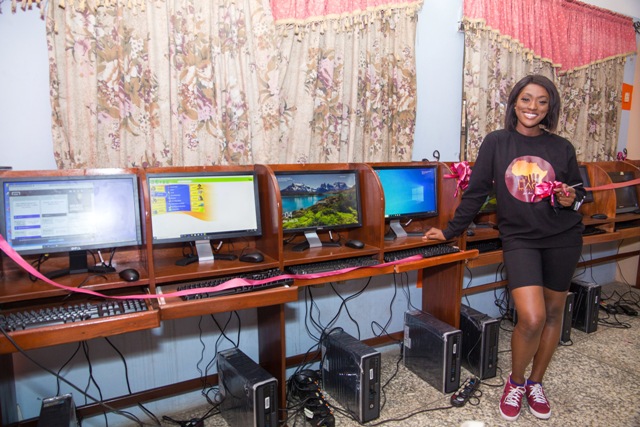 By  George Orie
Nollywood actress, model and show host, Linda Osifo has again given back to society with the donation of seven desktop computers to the Little Saints Orphanage, Shasha, Akowonjo.
The gesture was to help the institution rise to the challenge of online schooling occasioned by the close down of schools in the country, due to the rising cases of COVID-19 pandemic.
The closure has led many institutions to propagate online classes for their students. However, with the orphanage in short of ICT infrastructure, Ms. Osifo's benevolence has come handy.
The LAO Foundation (Love And Oneness), founded by the actress, recognized this problem and on Sunday, July 26, 2020, made donations of seven sets of computers to the Little Saints Orphanage, Shasha, Akowonjo, who were in dire need of a standard ICT structure.
Overwhelmed with joy while receiving these donations, the founder of Little Saints Orphanage, Akowonjo, Rev (Mrs) Dele George expressed:
"I was contacted by the LAO team who stated their intentions to donate sets of desktop computers to the orphanage. I was overjoyed as it was a very timely intervention and we are indeed grateful for this donation. We lay so much emphasis on education here at Little Saints because, without it, these children's past will continue to haunt them and they won't be able to live a financially independent life when they leave the orphanage".
She added further: "There is no way the history of Little Saints will be written without the mention of the LAO Foundation, and because of this act of kindness, we will be adding Linda Osifo's name to our hall of fame."
Speaking on behalf of the LAO Foundation, Ms. Osifo said:
"I'm glad to make this donation to Little Saints Orphanage despite the many obstacles we encountered to bring this to fruition. It is my honor to introduce you to the LAO Foundation (Love and Oneness Foundation). We believe love is what matters the most at the end of the day, and we believe togetherness also matters a lot.
"I wish we could have done more, however, we believe with small initiatives, others will be encouraged to do more. We do this every year in different communities, especially towards the time I celebrate my birthday. Looking at how impactful this orphanage has been, I will be coming back to do more; it is just the beginning of a great relationship".